LeapRate Exclusive… It isn't often that a large block of active retail forex traders (or IBs) come up for grabs. So when it happens, it shouldn't really come as a surprise that rival retail forex brokers do all they can to get a piece of that action.
This is, after all, an industry more dependent than most on constant new client flow.

LeapRate has learned that a number of leading forex brokers have been actively taking steps to entice clients of embattled FXCM Inc (NASDAQ:FXCM) to switch. The moves come after last week's drama which saw FXCM and its CEO Drew Niv banned from the US forex market, and the subsequent sale of FXCM's US clients to rival Gain Capital Holdings Inc (NYSE:GCAP).
The moves we are referring to aren't really aimed at FXCM's US clients. With FXCM out of the picture in its US home market, the only other viable alternatives are Gain Capital (which 'bought' the clients already), and Oanda (more on what they've done below).
The feeling in the Retail FX sector is that FXCM is now vulnerable in Europe, Australia and Asia, with its US troubles creating serious reputational problems for FXCM. Whether or not regulators outside the US take similar action against FXCM, its reputation as a broker which deals fairly and transparently with clients have clearly been sullied.
There are a number of retail forex brokers who have responded quickly by upping marketing budgets and sending email blasts, specifically targeted at FXCM customers.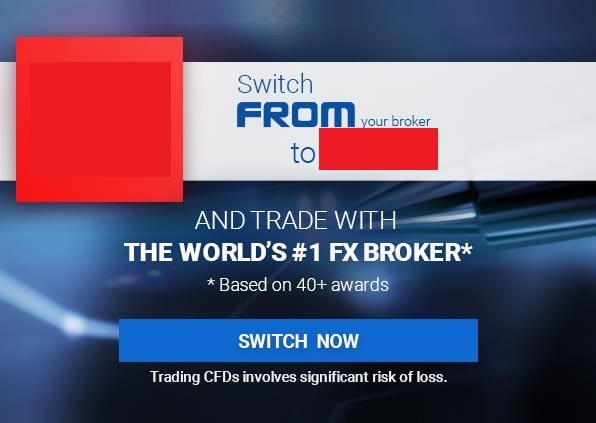 In one such ad (see at right), a broker used the special font which FXCM uses in its logo to write the word 'FROM', asking traders to switch 'FROM' your broker to them. (Compare the FROM in the ad to FXCM's logo above).
The ad is very clearly aimed at FXCM clients.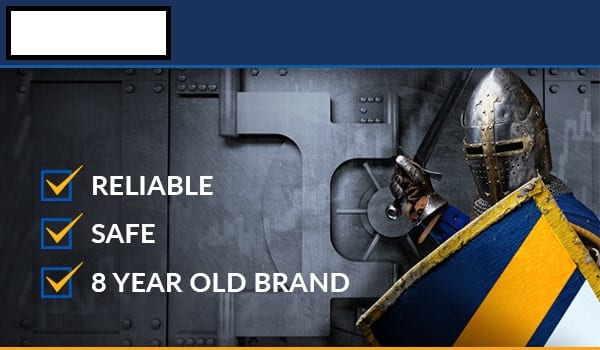 In another email blast late last week, a broker is touting itself as a Reliable, Safe, 8 Year Old Brand. Again, targeting those who suddenly feel that their broker might not be as reliable nor safe as they thought.
As for that 'other' US licensed broker left out of the FXCM-Gain Capital deal, Oanda. Oanda's new CEO Vatsa Narasimha was clearly miffed at being left out of the FXCM-Gain Capital deal, leaving Oanda as a distant second to Gain in the US market. Oanda put out a statement by Mr. Narasimha which, in our view, was not exactly a 'classy' move. In the statement (full text below), Oanda took a very cheap shot at FXCM, stating that the it 'applauds the CFTC's recent action' and that the CFTC's banning of FXCM was an 'extremely positive move… the retail trading industry as a whole will benefit from a more transparent approach where brokers are held accountable…'.
The ads and email blasts targeting FXCM clients, IBs and Affiliates we understand. There is blood in the water, so the sharks are circling. However those brokers were promoting themselves and why they are strong and worthy of your business, in a positive way.
But what Oanda and its still-green CEO did was, to put it mildly, not exactly a class move, kicking your competitor when they are down.
The full text of Oanda CEO Vatsa Narasimha's statement follows:
---
OANDA supports CFTC's move to protect the interests of traders
A statement by Vatsa Narasimha, Chief Executive Officer at OANDA:
"At our very core, OANDA has always been an extremely client-focused organisation, dedicated to creating a fair and transparent arena in which retail clients can trade, safe in the knowledge that we have their best interests at heart. That's why we believe the affirmative stance taken by the US Commodity Futures Trading Commission (CFTC) against the misrepresentation of interests to retail clients trading the global currency markets is an extremely positive move. Given our long-standing commitment to integrity, we believe the retail trading industry as a whole will benefit from a more transparent approach where brokers are held accountable for making questionable statements or falsely disclosing their interests.
Customers should trade with a broker they trust. Throughout our 21-year history, OANDA has earned a reputation for always putting our clients' interests first. Closely regulated by six authorities around the world, we work hard to ensure our clients succeed by offering transparent spread-only pricing with no hidden commission, no requotes and no rejections. We've also remained true to our legacy of integrity even during unprecedented market events such as the SNB crisis. As an organisation, we are committed to helping our clients succeed, protecting their interests wherever possible."
OANDA's Commitment
Widely respected in the trading industry, OANDA combines cutting-edge trading technology and institutional-grade execution across a wide range of asset classes, enabling clients to trade global stock indices, currencies, commodities, precious metals and treasuries on the world's best retail FX platform[1]. The firm boasts a state-of-the-art V20 trading engine that execute trades in less than two milliseconds[2], significantly reducing the chance of slippage in one of the world's fastest-paced markets.
OANDA is also firmly committed to partnering with clients on their journey towards becoming a successful self-directed trader, constantly striving to help them harness the power of the markets as they trade. From their award-winning education program to providing up-to-the-minute market commentary and a host of charting applications that help reveal potential trends, the firm arms their clients with the necessary tools required to make educated decisions and trade the markets with knowledge and confidence.
OANDA applauds the CFTC's recent action and looks forward to working together towards the overarching goal of achieving a secure experience for traders.