Offshore binary options brokers 247 Options Trade (operating from website 247optionstrade.com) is showing a number of false documents on its site purporting to be licenses issued to the company by regulators in Mauritius and Cyprus.
Mauritius regulator FSC has issued an investor warning that 247 Options Trade is not and has not, at any point in time, been licensed and regulated
by the FSC Mauritius, and urges investors and the public to exercise caution.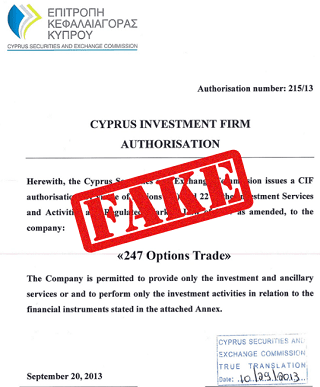 While it looks like Cyprus regulator CySEC hasn't caught up to the company yet like the Mauritius FSC has, 247 Options Trade is also showing on its "Licenses" page a fake license from CySEC. The CySEC CIF license number shown on the fake document, 215/13, actually belongs to a real Nicosia based investment management firm called A-Conversio, which of course has nothing to do with Binary Options or with 247 Options Trade.
In its 'Contacts' information, 247 Options Trade shows a fake New York City address on a non-existent Apple Street, alongside a phone number with a California area code.
The FSC warning against 247 Options Trade can be seen here.