WinifordREVIEW
December 23, 2020
Winiford Review
Introduction
Winiford is a dedicated cryptocurrency trading platform, covering plenty of tokens and offering a broad range of features and tools tailored towards the challenging crypto market. The end of 2020 is catching most of the popular tokens rising at a strong pace and with volatility elevated + good price-performance, retail traders are diversifying with crypto.
Trading with Winiford is designed for traders that want to have a trading account focused solely on cryptocurrencies. All the trading benefits associated had proven to be efficient in this industry and the brand believes this is the right mix for those that want to use technical analysis strategies to find high-accuracy trading opportunities.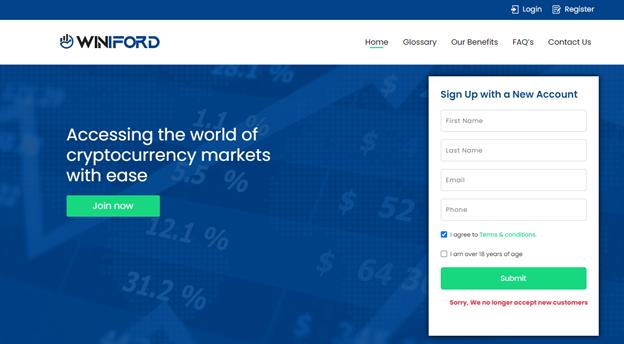 Winiford Account
The Winiford platform enables easy registration for customers. Register, fund, verify, and trade are the four steps all customers need to pass. Thanks to a simple user interface and professional customer support representatives, getting past the early formalities shouldn't be difficult, even for those that don't have trading experience.
All of Winiford clients enjoy an elevated trading experience since the Winfiord Standard account integrates all the trading features currently available with this provider. On top of that, the clients have broad access to the cryptocurrency markets, a user-friendly and advanced trading platform, 24/7 trading, 24/6 customer support.
As a global trading brand, Winiford accepts customers from all around the world, working on behalf of English-speaking retail traders wanting to benefit from the full crypto trading potential. However, it would be important to check if you can open an account with Winiford, considering the local regulation might not be consistent with the services provided.
Trading Instruments
Since the main goal of Winiford is to grant access to the world of cryptocurrency markets with ease, its customers are favored by the broad range of crypto instruments currently supported. The list of tokens covered includes Bitcoin, Ethereum, Tether, XRP, Chainlink. Litecoin, Bitcoin Cash, Polkadot, Binance Coin, Cardano, Bitcoin SV, USD Coin, EOS, or Wrapped Bitcoin.
These tokens can be traded against USDT, BTC, or ETH, which means customers have access to liquid market conditions and tight trading costs. When it comes to crypto coverage, Winiford has a clear advantage over other brands, but since crypto is the only asset class available, traders interested in other instruments might not be favored.
Trading Platform
The Winiford platform is a web-based solution, providing a user-friendly and responsive interface. Developed by the brand, this is a personalized platform that wants to fit well the customized experience of crypto trading.
Thanks to advanced charting, risk management tools, one-click trading, the ability to make deposits, or asset alerts, traders have full control over their account directly from the platform. Also, since technical analysis is the most popular approach among retail traders, applying any strategy won't be constrained, but on the contrary, with so many different tools, customers can find whatever indicators or drawing tools they need.
Deposits and Withdrawals
To facilitate affordable and fast deposits, Winiford is accepting both credit/debit card or wire transfer payments. The trading accounts can be denominated in EUR, GBP, or USD, to allow more options for customers.
The same methods will later be used for withdrawals, after completing the verification process. The withdrawal procedure will require customers to send a request to Winiford. A representative will manually process all requests within 10 business days and if all conditions are met, the payment will be sent.
Keep in mind that you can open an account, make a deposit, and start trading right away. Not the same can be said about withdrawals. Make sure you send the identification documents from an early stage to avoid inconveniences.
Pros:
User-friendly and very responsive trading platform
Reliable customer support for all registered clients
Secure access to the crypto markets is ensured.
Cons:
Clients can trade only via the Winiford WebTrader
Verification process is mandatory to make withdrawals
Website available in English only.
Research tools offered to traders
With the advanced platform provided by Winiford, traders can conduct in-depth research on past price action developments for all the assets part of the offer. They can spot historical support/resistance levels and notice repetitive patterns, gaining an edge over others that simply focus on the present.
Should I Trade with Winiford?
If you are a trader looking for a trading platform dedicated to cryptocurrencies, then Winiford is very likely one of the options to consider. The main reason for that has to do with the abundance of tools and features provided to ensure security and trading efficiency across so many different assets.
Winiford does not make any concessions when it comes to its customer-oriented philosophy and that is one of the main motivations for retail traders currently working with this brand. Check the Winiford website and see more about what it has to offer to be able to decide if you have everything to trade crypto professionally.