TrendsTurboREVIEW
June 07, 2021
TrendsTurbo has been in business for a decade, and is licensed in Saint Vincent and the Grenadines. TrendsTurbo is headquartered in Kingstown in Saint Vincent and the Grenadines. No bonuses are offered for new traders, but they can enjoy the advantages of fee-free withdrawals and deposits.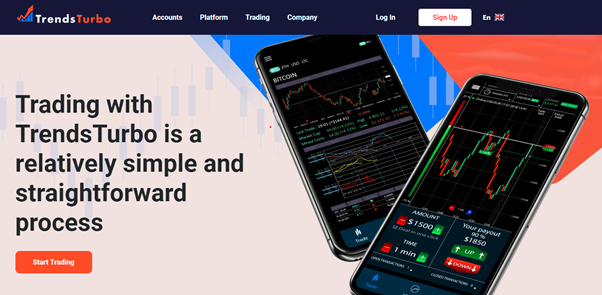 Offering of financial investments
TrendsTurbo offers hundreds of different trades, which is ideal for traders who are looking to practice strategies or try out new markets. However, there is no social trading on the platform and no cryptocurrency options for trading.
Forex: Hundreds of different currency pairs available.
Metals: Including platinum, copper, silver and gold.
Indices: Including Dow Jones, S&P 500, Nasdaq, FTSE, DAX, ASX 200, CAC, and others.
Energies: Including crude oil, petroleum, natural gas and heating oil.
Futures: Including commodities along with individual stocks, shares of ETFs, bonds and gold.
Shares: CFDs of the biggest and most influential companies on the market.
TrendsTurbo Trading account types
TrendsTurbo offers four account types for traders, which range from a $250 minimum deposit for the Bronze Account up to a $50,000 minimum deposit for the Platinum Account. The spreads start at 2.8 pips for Bronze Account holders and climb to 0.1 pips for Platinum Account holders. The leverage also starts at 1:100 and increases up to 1:400.
All accounts, however, enjoy stop out levels of 5%, a trade size of 0.01-50 lots, an unlimited amount of open positions, and news trading and scalping. There is no commission on any of the accounts, and all accounts enjoy the benefit of a personal account manager. However, only Silver, Gold, and Platinum Account holders also have access to Expert Advisors on the site.
In regard to site security, all of the accounts on the platform need to be verified using a government-issued ID and proof of address. The verification process is fairly standard and efficient.
TrendsTurbo Commission and Fees
TrendsTurbo is a low-fee broker as it does not charge any deposit or withdrawal fees. The platform also does not charge any commissions. This makes it a great platform for players who specifically want a low-fee broker.
Deposits and withdrawals can only be made using credit cards, debit cards, and bank wire transfers, however, which is a fairly limited range of payment options compared to many of the other brokers.

TrendsTurbo Platforms and Tools
TrendsTurbo uses the reliable MetaTrader 4 (MT4) platform, which has become a favourite of the industry. MT4 has won a number of awards in the industry and the MT4 terminal can be downloaded.
On the MT4 platform, traders can make all types of orders, including linked orders and open trading positions in multiple trading accounts. The platform also has a number of extremely helpful tools. Automated trading is a built-in feature, as is a multilingual interface and a range of trading indicators and graphical objects to help traders make informed, good-quality trades.
TrendsTurbo Research
TrendsTurbo offers traders a range of useful technical indicators and trading resources. Perhaps most notable is the fact that TrendsTurbo also provides guidance to traders, as every trader has access to a Personal Success Manager to help them navigate the platform and learn about trading. The traders who have Silver, Gold, and Platinum accounts also have access to Expert Advisors.
However, unlike some of the other trading platforms, TrendsTurbo does not have a resources library, videos or online classes to help novice traders develop their understanding of the industry.
TrendsTurbo Mobile Trading App
The MT4 app can be used on both Android and Apple devices and is easy to use and efficient. Many traders prefer the downloadable trading terminals because it is easier to view all of the information on a wider screen. However, the app has all of the necessary symbol quotes, trading history, and prior deals so that traders will be able to analyse their trade, review the needed stats, and perform a new one.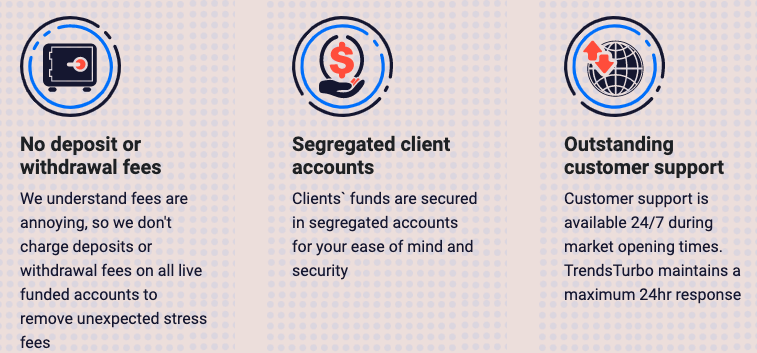 Should I trade with TrendsTurbo?
TrendsTurbo is a good platform for brokers who are looking for a low-fee option to trade a wide range of assets. TrendsTurbo has taken a number of steps to improve security, including a series of anti-money laundering processes and account verification procedures. The company also protects trader security by keeping client funds in separate accounts.
However, novice traders will likely want a platform with more resources specifically for trading education, such as a resources library, videos or online classes. Also, many traders will want to use new, innovative trading techniques such as social trading and crypto trading, which TrendsTurbo does not yet offer.
Pros
Cons

Four different account types
Uses the reliable MT4 platform
No fees for deposits and withdrawals
Personal Success Managers and Expert Advisors available
Wide range of different tradeable assets available

Unclear customer support information
No social trading available
No crypto trading available
FAQs
Which account type is the best?
Four account types are available on the platform. The accounts start at Bronze with more limited spreads and leverage, and increase up to Platinum accounts, which have very attractive spreads and leverage options. The Bronze and Silver accounts are likely to be the most competitive as they are the most accessible.
Is TrendsTurbo safe?
TrendsTurbo has taken a number of steps to ensure the security of its traders and to limit any fraudulent activity or money laundering that may take place on the platform. Client funds are held in segregated bank accounts, and it is regulated by the Financial Services Authority of Saint Vincent and the Grenadines.
What kind of customer support is available for traders?
There are a number of different customer support options available. Traders can call the +44 customer support phone number listed on the website's Contact page, or traders can send an email or fill out the site's submission form. Customer support is available 24/7 during market opening times and the company has a 24-hour maximum response timeframe.