Super-FiveREVIEW
September 29, 2020
Super-Five Review
Introduction
Cryptocurrency trading is a growing trend, considering online trading brands are integrating next-generation technologies to enable access for the broader public. Super-Five is an example of a brand solely focused on cryptocurrency instruments, to fulfill the growing need for a better crypto trading experience, It created a comprehensive trading offer around a proprietary trading platform which offers multiple trading functionalities.
With a 24/7 weekly trading schedule and 24/6 customer support, Super-Five has a client-oriented approach, offering tailor-made services, without major interruptions or technical issues. It also ensures protection for both client funds and personal data, using a security mechanism and a Privacy Policy.
This Super-Five review will highlight some of the most important features available for traders choosing to trade crypto with them.

Account Registration with Super-Five
Contributing to the mass adoption of cryptocurrencies can be described as the outcome of the Super-Five services, as traders who chose to try their offer, can benefit from a simple registration process, all they need is to provide the first and last name, email, and phone number, agree to the terms & conditions and confirm they are over 18 years of age.
The trading account will be created within seconds and from the dashboard, clients can make deposits/withdrawals, enter the WebTrader, upload documents, view transaction history, set account security parameters, and many other tasks.
Super-Five declared it aims to keep growing globally and enlarging its customer base, in order to fulfill this ambition, the brand is accepting clients from all over the world, without any geographical restrictions in place. It is important to note, though, that all clients will need to comply with the KYC.AML Policy and as a result, provide identification documents before being eligible to make a withdrawal.

Super-Five Trading Platform
The Super-Five WebTrader is a versatile trading software integrating next-generation trading technologies and useful tools ideal for cryptocurrencies. Dealing with the challenges of the crypto market is the main goal of WebTrader, a simple yet effective platform suited for both beginners and advanced traders.
Among the features worth mentioning, TradingView charts stand out. Used by many professional traders, these charts had proven their efficiency and are the best fit for cryptocurrency trading. Due to this integration, clients working with Super-Five have access to hundreds of different indicators, multiple chart types, and drawing tools designed for technical analysis.
At the same time, the Super-Five platform allows access to live news from CNBC, where clients can find out more about the latest market developments. Making deposits is available directly from the platform, without logging into the dashboard, and with asset alerts, traders will be notified when any cryptocurrency asset will reach a predefined price level, reducing the need to stay in front of the charts all the time.
WebTrader is customizable, allowing customers to resize windows, choose between four different skins, or select from 4 different languages. To get access to the most active instruments of the day, the Risers & Fallers section will display the crypto assets with the best positive or negative performance.
Although it is web-based trading software, it can be used not just on desktop, but on any mobile device supporting a modern browser. Trading-on-the-go is thus ensured and traders can stay connected with the crypto market at any point and from any location.
Cryptocurrencies Available
Due to its focus on providing top-notch crypto-related services, Super-Five is currently supporting tens of different cryptocurrency instruments. The offer includes a wide range of tokens, from popular ones like Bitcoin, Ether, Bitcoin Cash, XRP, EOS, or Dash, to altcoins such as ARK, Ethereum Classic, OMG, ZCash, IOTA, Stellar, Tron, Cardano, or Neo. It is important to note the instruments are denominated in the popular stablecoin Tether, Bitcoin or Ether.
By doing so, Super-Five ensures access to liquid crypto instruments and reduced trading costs. With such a broad coverage for crypto assets, the brand has an important edge over other competitors and facilitates diversification for traders.
This year, trading opportunities had been arising across a broad spectrum of tokens, not just Bitcoin or Ether, which makes it imperative for brokers to enhance their crypto coverage.
Trading Conditions
With Super-Five, traders can benefit from both rising and falling markets, since the instruments involved don't facilitate buying the underlying instruments. A trading account can be denominated in Bitcoin, Tether, or other popular fiat currencies, and in terms of deposits, credit/debit cards, and wire transfers are accepted, alongside crypto deposits.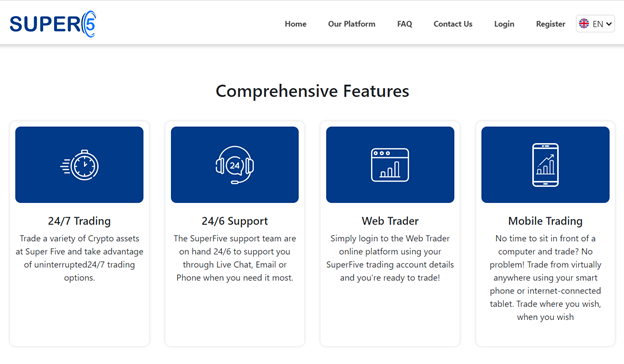 When it comes to withdrawals, each customer must make a request by filling a form on the platform. To be eligible for a withdrawal, a client will need to provide several documents, including Photo ID, Proof of Residence, and proof of payment for credit card transactions. Super-Five reserves the right to reply to a user withdrawal request within 10 business days.
Should You Trade with Super-Five?
Based on the structure of its trading offer, Super-Five is an online trading brand that mainly targets traders looking to get involved in the cryptocurrency market.
With tens of different crypto instruments, this is an ideal place to build a crypto portfolio and find opportunities across a broad range of altcoins, not just Bitcoin or Ether.
Also, it is an opportunity to trade on both rising and falling markets, without holding the underlying instruments and for those looking to take advantage of price movements, Super-Five might be a great option. By ensuring security and AML, funds safety, and a great degree of privacy, the broker looks forward to working with traders from all around the world, with no geographical limitations.
Conclusion
The increased activity in the cryptocurrency markets is drawing attention from people all around the world. However, when it comes to opportunities to get involved in the crypto industry, there are still limitations in place.
Super-Five seems to succeed in breaking those limits by providing a comprehensive trading offer for retail traders wanting to take advantage of the crypto revolution. Valuations had been actively moving up and down over the past several years, generating multiple trading opportunities along the way. By covering a multitude of cryptocurrency instruments, Super-Five ambition is to be one of the top choices in terms of cryptocurrency-oriented online trading brands.