StarcapitalREVIEW
January 06, 2021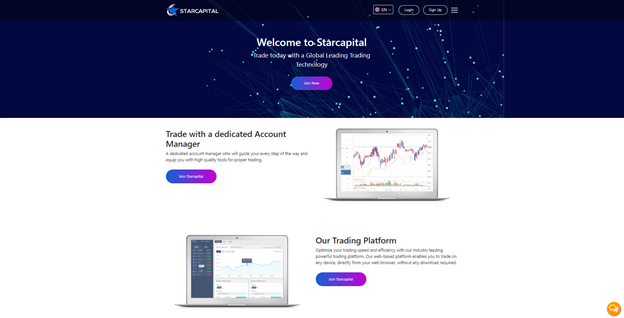 Introduction
Starcapital is an online trading platform using today's global leading trading technology. Activity in the financial markets continues to be elevated and that is generating a consistent flow of new retail traders.
Brands like Starcapital want to take advantage of the rising popularity of retail trading and provide personalized trading services for those who desire to take advantage of the markets without any limitations.

Trading with Starcapital implies access to multiple resources, including flexible trading software, support from an account manager, fast order execution, and professional customer support via live chat or email. The brand wants to ensure high trading standards and strong security, so traders can focus 100% on the markets.
Starcapital Trading Account
The Starcapital account was designed as a convenient solution for all traders, regardless of their background and goals. Opening an account is a simple process and once completed, traders can proceed with a deposit and the verification process. The brand does not want these formalities to take long and offers information on its website about what documents need to be provided.
All customers gain access to professional customer support 24/6, superior performance and user interface, and next-generation trading technology.
Commissions and Fees
Since the services offered by Starcapital involve trading on various instruments, traders will be pleased to find out that the sole trading cost is spreads and overnight swaps. Other trading costs might apply when depositing/withdrawing money from a trading account. Starcapital does not take responsibility for costs that have to do with interbank money transfers.
Trading Instruments
By opening an account with Starcapital, traders gain access to the global financial markets, including a selected list of cryptocurrency instruments. As Bitcoin trades reach all-time highs and other altcoins such as Ether, Neo, Cardano, Stellar, and Tron are on the rise, people are interested in crypto and would like to take advantage of the growing crypto industry.
With Starcapital, traders can get involved in tens of different cryptos and benefit from attractive trading costs and accurate execution. The brand is also assisting customers via professional representatives 24/6, making sure they get everything needed to trade efficiently.
Trading Platform
The Starcapital trading platform is designed to optimize trading speed and efficiency. This web-based trading solution enables traders from around the world to trade on any device, directly from a browser, without having to download and install any software. By relying on a browser platform Starcapital wants to achieve the much-needed flexibility traders want when dealing with financial markets.

On top of the WebTrader, there is also a Starcapital trading app for Android users. Giving the modern trader a choice of platforms isn't possible without mobile trading capabilities. On a smartphone or tablet, this app is simple and maintains the utmost security of funds and personal data. However, there is no iOS app yet released and that could be a minor downside for iPhone or iPad users.
Deposits and Withdrawals
Starcapital claims to be well-known for its efficient and quick funding methods. The brand accepts payment via credit/debit card and wire transfer in USD, EUR, or GBP. On top of that, traders can also use a cryptocurrency wallet.
Traders need to take note that withdrawals won't be approved until all the identification documents (photo ID, proof of residence, and in some cases proof of payment) have been reviewed and officially approved by the relevant Starcapital staff. Withdrawals are processed and should arrive in the customer's bank account in 10-14 business days, depending on how fast the bank transfers the funds.
Pros:
Comprehensive withdrawal policy
Fast, secure, and flexible Android app available
Trade with a dedicated account manager
Cons:
iOS users don't have an app for trade on mobile
Only one standard account available for all customers
WebTrader is the only platform for desktop trading
Research Tools Offered to Traders
There is limited information available on the website regarding any research tools offered to traders. However, Starcapital does offer support from account managers for all customers. That means someone will guide new customers along every step of the way to equip them with high-quality tools, necessary for proper trading. Also, some of the tools integrated into the platform can be used to gain more insights related to each asset currently part of the brand's offer.
Should I trade with Starcapital?
The services offered by Starcapital are designed for customers residing in various countries around the world, where local regulation is favorable. Starcapital wants to unlock the full potential of online trading and provide advanced trading capabilities.
With professional customer support available 24/6, a dedicated account manager for each customer, fast order execution, superior performance, and user interface, the brand wants to expand its customer base and make trading available for everyone. Competition in the trading space is fierce and Starcapital offers a personalized trading offer, including proprietary software and Android app.