Royal BridgeREVIEW
June 02, 2022
Royal Bridge ? Review
Introduction
Royal-Bridge is a financial provider specialising in digital asset trading, striving to provide a complete and feature-rich platform that can be used by traders from all corners of the world. As its name suggests, the company wants to act as a bridge between the wider public and the world of blockchain technology.
Cryptocurrencies have taken a confidence hit recently, which put a stop to the rise in valuations. This is yet another reason to analyse the Royal-Bridge trading offer, given the fact that you can trade when prices are falling. This review plans to offer some key insights into the brand's capabilities.
When trading digital assets, it's essential to stay on top of markets, and that can only be done using tailored trading benefits. Royal-Bridge currently covers a wide range of cryptocurrencies, letting you choose which ones are most appropriate for you to trade on.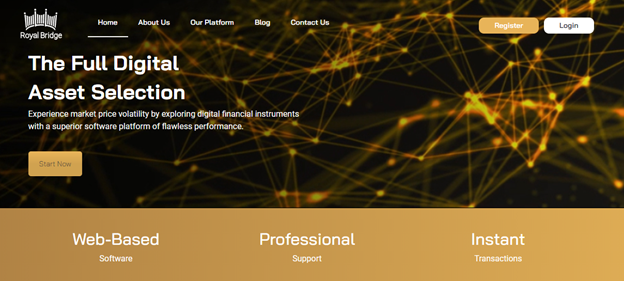 At the same time, the company pays close attention to trading costs, so customers can enter and exit the market without being charged hefty amounts. Execution is solid, mainly because a new platform has been designed, meeting the challenging conditions in the crypto space.
Royal-Bridge platforms and tools
WebTrader comes as a solution for cryptocurrency trading, integrating TradingView charts, risk management tools, price alerts, multiple order types, and easy access to all instruments covered by Royal-Bridge.
With a personalised platform, the brand can grow alongside its customers. Its team of experts managed to design a new solution that fits well into the world of digital assets. This platform is web-based, so any customer can access it online, with no installation required. In doing so, they can gain more flexibility when analysing markets at home, in the office, or on the go.

Although this is the only platform available with this crypto broker, there is no limit in terms of what devices you can use. As long as you have an internet connection and support for a browser, you are just a few clicks away from the latest price developments.
Royal-Bridge Research
New users may be in search of educational content, so they can learn how the crypto industry works before they commit their capital. One of the places where you can find basic content on crypto trading is the Royal-Bridge blog.
By understanding the market mechanics, you can notice cyclical price action behaviour and spot new trade opportunities. Royal-Bridge encourages customers to adopt a responsible approach and to be aware that there are also risks involved in this business. Crypto trading can work only if you are committed to learning and if you have certain risk tolerance.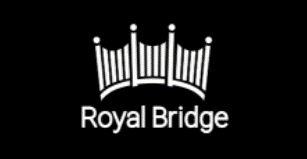 Should I trade with Royal-Bridge?
Based on the information about Royal-Bridge and the feedback shared by existing customers, this looks like an ideal place to trade crypto. The long list of assets, combined with the tailored platform and low funding requirements, make up for an offer that can meet the demands of a very large audience. The main goal of Royal-Bridge is to connect with as many traders as possible, offering them a complete infrastructure.