ROIMAXREVIEW
November 19, 2020
?ROIMAX Review
Introduction
ROIMAX is a cryptocurrency trading platform designed to provide global leading trading technology combined with a uniquely personal approach. At a time when most of the financial services providers are more focused on other assets, in this case, people can benefit from an offer that is solely focused on cryptocurrencies.
With an expanded cryptocurrency offering, ROIMAX is looking to attract cryptocurrency traders from all around the world, except for several restricted jurisdictions. Cryptocurrencies continue to be attractive due to their volatility and because multiple crypto projects had managed to gain the public trust, their token values had performed unexpectedly well.
Digital currencies represent the future and enabling retail traders to be part of it is one of the key goals of ROIMAX. Does it manage to deliver all that's necessary to perform in this challenging environment?

Traders working with ROIMAX will benefit from a single standard account, with all the features and benefits available for all customers, regardless of their initial deposit. In doing so, ROIMAX wants to democratize access to cryptocurrency trading and enable as many people as possible to get involved in the market.
The account opening process has been simplified and in only a few minutes, a user can register, make a deposit, and start trading crypto. However, it is important to note the company did not sacrifice security and privacy. It has strong rules in play for KYC, privacy, deposits, and withdrawals, to make sure that customer data and funds are always safe.
All customers will need to verify their accounts before making withdrawals, in line with what all the other major trading brands are offering. With dedicated account managers, 24/6 customer support, and other resources, the ROIMAX account is providing plenty of different benefits for optimal crypto trading.
Trading Instruments
Because it is focused on cryptocurrency trading only, ROIMAX is currently providing access to tens of different crypto instruments, covering a broad range of tokens including Bitcoin, Ether, Litecoin, XRP, or Bitcoin Cash, as well as some other altcoins like Dash, Neo, Cardano, Monero, ZCash, or Tron.
Competitive trading costs are another reason why many crypto traders had already chosen to work with ROIMAX. With so many different cryptocurrencies currently supported, they can take advantage of price movements across the crypto market and benefit from the rapid rising or falling of altcoins.
Trading Platforms
Using superior technology and the combination of power and speed, the ROIMAX advanced trading platform is designed to optimize your trading and efficiency with an industry-leading solution.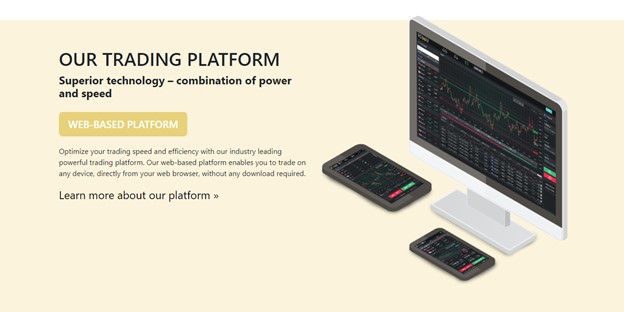 This Web-based platform enables traders to trade on any device, directly from a browser, without any download required. It integrates the tools and features seen with any other popular platform, such as advanced charting, risk management tools, one-click trading, asset alerts, and others.
Alongside the WebTrader ROIMAX is providing access to an Android-based mobile app. This is a platform of choice for the modern trader, considering cryptocurrency trading is an activity requiring a lot of market monitoring and risk management.
While maintaining the utmost security and reliability, the ROIMAX app allows people to trade from any location directly from the mobile or tablet, as long as they have an internet connection. The brand is fully aware that without a mobile app, it would be extremely difficult to trade in a volatile market like crypto.
Both platforms come with a simple yet very efficient user interface, making it possible even for beginners to start using them without major hurdles. Although proprietary software, all the functions integrated are seen with any other trading platform.
With the WebTrader and the Android app, ROIMAX ensures access to two reliable trading platforms that have been designed specifically for the cryptocurrency market.
Deposits and Withdrawals
ROIMAX supports some of the most popular payment methods in the market, considering it aims to reach traders based around the world. As a result, they can deposit funds using credit/debit cards, wire transfers, or cryptocurrencies.
These methods have been proven to be secure and reliable over the years and they will be used for withdrawals as well. But customers will need to consider that withdrawals will not be possible until the verification process will be completed. ROIMAX has strict KYC guidelines, mandatory for all customers.
Research Tools Offered to Traders
Because cryptocurrencies are a relatively new concept for most people the pack of services currently available at ROIMAX also includes a broad range of educational resources. It offers 1-on-1 training sessions with an account manager who will guide traders every step and equip them with high-quality tools for proper trading.

On top of that, customers will be able to benefit from financial news, in-depth analysis techniques, and a comprehensive Trading Academy, where beginners will learn the basics and take one step forward in their trading journey.
Assisting with educational resources proves ROIMAX has a customer-oriented approach and wants its clients to be satisfied all the time. As the cryptocurrency markets continue to develop, the brand wants to keep adding new features and help traders be one step ahead.
Pros and Cons
Support for tens of different cryptocurrencies.
24/6 customer support service available via live chat or email.
Web platform and Android app optimized for crypto trading.
cryptocurrencies are the only assets supported.
No iOS app is currently available.
Customers in several jurisdictions can't open an account with ROIMAX.
Should I Trade with ROIMAX?
Given the high potential in the cryptocurrency space, ROIMAX wants to provide an edge for cryptocurrency traders that want to take advantage of the full crypto potential. With an offer focused solely on cryptocurrencies, the platform addresses crypto traders from all around the world that want to gain a diversified exposure on tens of different tokens,
Due to professional customer support, advanced trading technology, and other useful resources, ROIMAX wants to be one of the top choices for traders believing in cryptocurrencies and how they can impact the future. This is a cryptocurrency trading platform designed for traders all around the world, aiming to contribute to much broader crypto adoption.