OmplixREVIEW
November 19, 2020
Omplix Crypto Review
Introduction
Omplix is a cryptocurrency trading platform dedicated to providing an optimal user experience to its wide range of customers. The brand put a great effort into developing a welcoming place for traders that want to fully focus on crypto assets.

This is a platform that addresses the needs of various traders, beginners, or experienced because the trading software was built with the idea of broad coverage in mind. Traders will find at Omplix a service that offers advanced technology and an intuitive interface, to give them diverse opportunities for expanding the crypto expertise.
Users benefit from the guidance provided by personal assistants that will work hard to offer useful knowledge, answering any questions related to the Omplix services. As an international crypto trading platform, Omplix is operating for traders based in various countries, where these services are not prohibited by the local law or regulation.
An increasing number of traders are now interested in cryptocurrencies, which is why it would be important to analyze whether Omplix manages to deliver some of the most competitive trading services in the market.
Omplix Standard Account
Because Omplix wants to be a partner its customer can trust, there is no diversified offer in terms of account types. All customers will enjoy the benefits of a standard account, incorporating all trading features, and providing access to all cryptocurrency instruments currently supported. Signing up for a new account is a straightforward process, convenient even for those with no trading background.
Funding an account with Omplix is simple, considering there is support for some of the most popular payment methods. Verifying the account would be another important step to complete because the brand complies with KYC/AML requirements.
Advanced tools and efficiency, personal account manager, fast execution, and a variety of crypto assets are just some of the trading benefits currently provided. Cryptocurrency trading is a challenging activity and that's why Omplix wants its customer equipped with the latest trading tools available in the market.

Trading Instruments
As a cryptocurrency-oriented trading platform, the main benefit when using Omplix has to do with the broad range of cryptocurrencies covered. Traders are able to take advantage of both rising and falling markets on tokens like Bitcoin, Ether, Litecoin, Dash, XRP, Ethereum Classic, Stellar, Monero, Tron, Tezos, IOTA, ZCash, or Cardano.
Omplix is a platform designed for those that want to take advantage of margin trading for different cryptocurrencies that have an established track record. These tokens can be traded against Tether (USDT), BTC, or ETH, ensuring ample liquidity conditions and accurate pricing.
There are no other asset classes currently supported by Omplix. Only traders wanting to focus 100% on cryptocurrencies will find the offer appealing and very useful.
Trading Platform
The Omplix platform provides some of the latest cutting-edge trading technologies and represents an efficient software to get involved in this challenging market. Fast order execution, advanced charting, risk management tools, different order types, and plenty of other features are already integrated.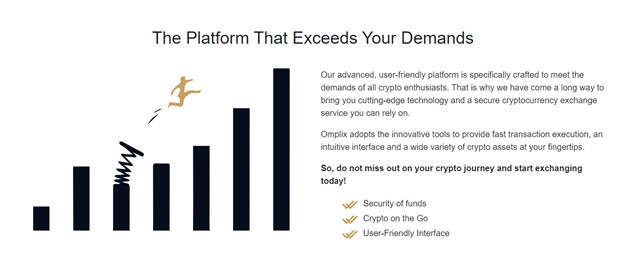 This platform is web-based and can be accessed on different devices (desktop, laptop, smartphone, or tablet) without any installation required. Omplix wants its customers to be fully equipped for the ever-developing world of online cryptocurrency trading.
Built specifically for cryptocurrencies, this is a lightweight trading platform, crafted to be user-friendly and responsive. When markets are volatile, traders need to act fast and that won't be possible without an optimized platform at their disposal.
Deposits and Withdrawals
To make a deposit at Omplix, traders can use credit or debit cards, bank wires, or cryptocurrency payments. The same methods can be used for withdrawals. According to the Omplix Withdrawal Policy, only users that have submitted the identification documents and passed the verification process are eligible to request a withdrawal amount.
The minimum withdrawal amount for a credit/debit card is 100 USD/EUR/GBP and 250 USD/EUR/GBP for a bank wire. For cryptocurrency payments, users will need to provide their wallet address.
Pros:
Enhanced security features
Flexible trading platform
User-friendly interface
Cons:
Cryptocurrencies only are supported.
Phone customer support not yet available.
Should I Trade Crypto with Omplix?
Because it is a platform focused only on cryptocurrencies, Omplix is one of the optimal choices for traders that want to allocate 100% of their time on the crypto market. The main benefits when working with Omplix come from the cryptocurrency coverage, the personalized platform, and the customer-oriented approach.
Due to its global outreach, Omplix accepts customers from all over the world, enabling the full trading potential, with no limitations. Cryptocurrency trading carries risk and because of that, the platform comes with risk management features and each customer will get support from a personal assistant.
Omplix is one of the brands wanting to show that it is possible to take advantage of the cryptocurrency market, without any security vulnerability and without having to hold hard crypto tokens.