MrGuruREVIEW
November 19, 2020
MrGuru Review
Introduction
Driven by the growing demand for cryptocurrency trading services, MrGuru emerged as a new crypto trading platform designed to facilitate simple yet effective access to a broad range of popular cryptocurrencies.
Using a proprietary WebTrader, the brand aims to offer traders the chance to trade exclusively online, via a fast and reliable platform. MrGuru provides a unique trading experience, via a trading ecosystem built from scratch to show that even crypto trading can be an activity designed for the masses, and not just for those that have a lot of trading experience.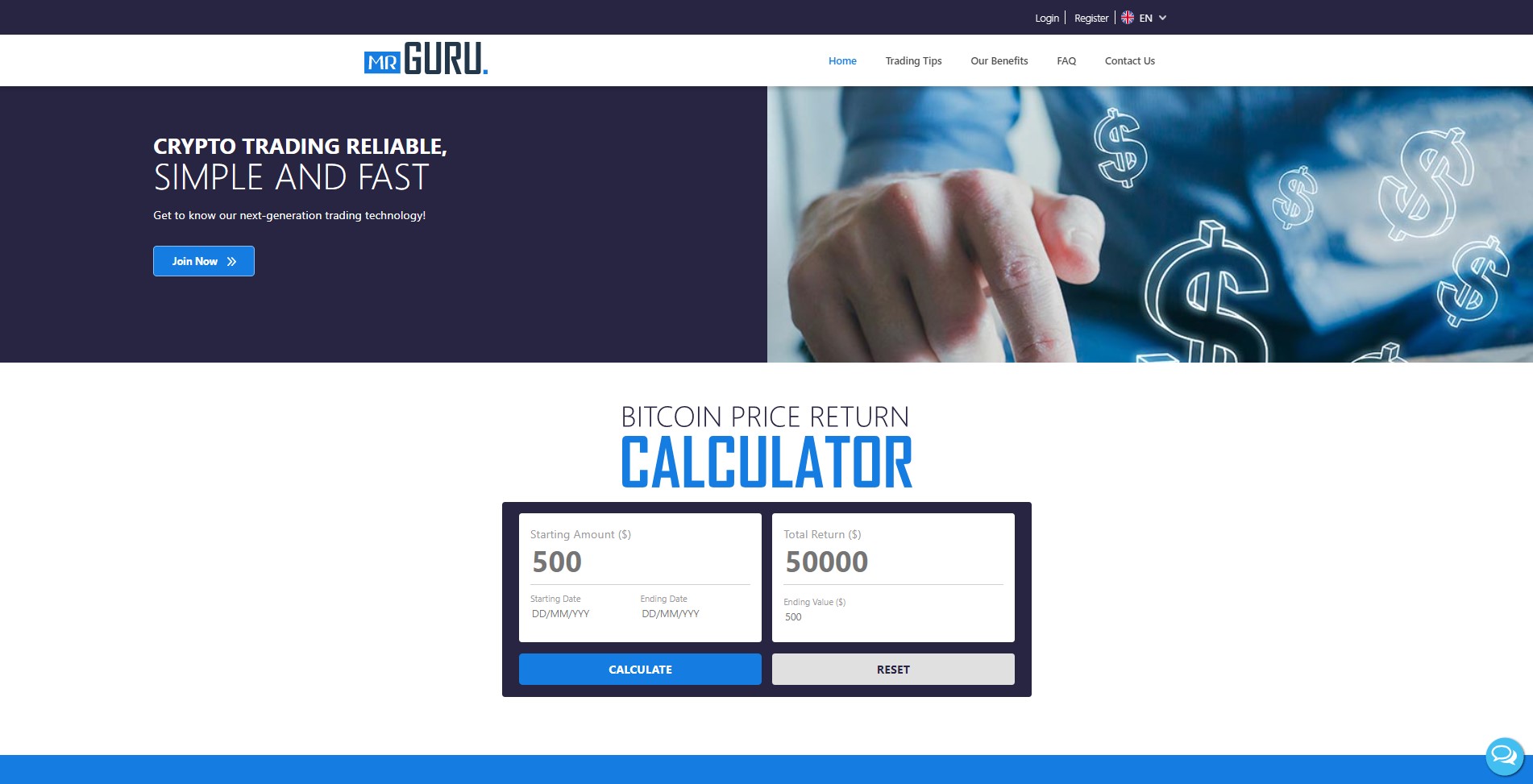 MrGuru is an international crypto trading platform, operating for customers all around the world. The website is available in English only, which confirms the target audience is based in various regions around the world, except for several restricted jurisdictions like the United States or the EU.
MrGuru Standard Account
Because it believes all customers should have equal access to trading benefits, MrGuru provides a single standard account. The account is very simple to open and to manage. For any question or inconvenience, there is also an account manager available to help.
The MrGuru account can be denominated in various popular fiat currencies, as well as Bitcoin or Tether. Crypto deposits are accepted and users can transfer tokens from their wallets. Each account is subject to verification, which means every customer will need to provide several identification documents like photo ID, proof of residence, or proof of payment, in case they use a credit card.
Only verified MrGuru accounts are eligible to request withdrawals. However, making a deposit and starting to trade can be done before submitting the documents. Access to account functionalities will be able directly from the platform, to make the whole process more convenient.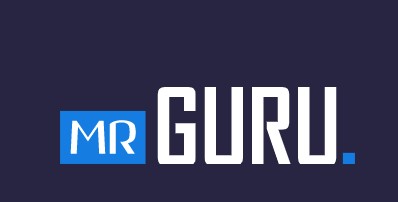 Trading Instruments
As a cryptocurrency trading platform, the main benefit is that traders can trade on a broad range of tokens. The MrGuru asset list includes some of the largest cryptocurrencies or altcoins, like:
Bitcoin
Ether
Tether
XRP
Bitcoin Cash
Polkadot
Cardano
USD Coin
EOS
Monero.
All of the instruments can be traded on margin, both on falling and rising markets. MrGuru provides access to competitive trading costs and some of the popular funding methods like credit/debit cards, wire transfer, or cryptocurrencies.
A variety of cryptocurrencies available means an improved ability to take advantage of new opportunities emerging across the entire market. Altcoins had already proven to be more active than the large tokens, which means better prospects to find trade setups.
It would also be important to consider that cryptocurrency trading involves risks, which is why MrGuru encourages responsible trading using the risk management integrated into the platform.
Trading Platform
Given the unique challenges arising with cryptocurrencies, MrGuru's philosophy had been that it would be required to build a new trading platform. The WebTrader emerged and it is now the single trading solution available with the brand.
Because it is a browser-based platform, there is no need for any installation and any customer can log in via the MrGuru website. As opposed to other platforms, this solution has proven to be lightweight and fast, providing a simple user interface so beginners won't have major troubles using it.
As traders would expect, it integrates advanced charting (powered by TradingView), risk management tools, a news section, asset alerts, favorite lists, and several customization features (skins, several different languages, reshaping windows, etc.)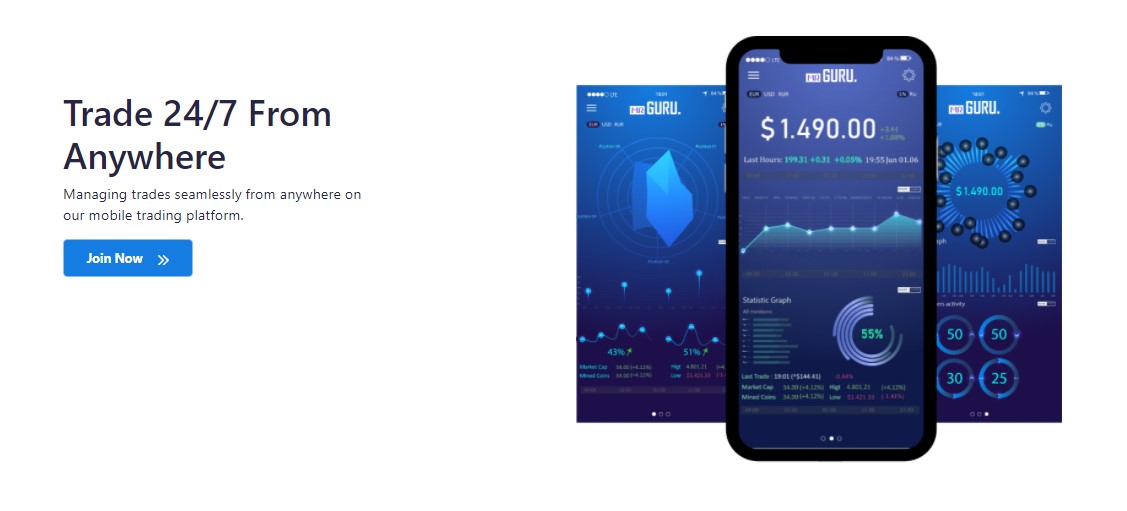 Accessing the WebTrader on mobile is also possible via a smartphone or tablet, using Android or iOS. As long as a browser and internet connection is available, the platform can be accessed without hurdles. Traders will be able to monitor existing trades or see how the market performed recently.
Deposits and Withdrawals
To make a deposit with MrGuru, customers have three options available:
Credit/debit card
Wire transfer
Cryptocurrencies.
The same methods will be used for withdrawals. According to the MrGuru withdrawal policy, the minimum withdrawal amount for a credit/debit card is 100 USD/EUR/GBP, while for a wire transfer, users will need to withdraw at least 250 USD/EUR/GBP.
MrGuru wants its customer to allow 10 to 14 business days for the withdrawal amount to reach the bank account. At the same time, the verification process will need to be completed before requesting a withdrawal.
MrGuru Security & AML
Although MrGuru uses some of the most advanced safety measures available in the market, users also carry the responsibility of setting a strong account password. On top of that, they will need to be fully aware of the AML and KYC policies, that will require to verify identity, residence, and in some cases even payment methods.
Also, MrGuru monitors trading activity in the platform to ensure that no prohibited activities are carried out and the security of customers' trades is never compromised. The MrGuru Security and AML policies are fully transparent and available on the official website.
Customer funds are the highest priority, but at the same time, personal data is extremely valuable, and this is why MrGuru keeps it protected, according to the Privacy Policy. Traders wanting to find out more about how the information is processed should check the official website.
Pros and Cons
Strong security reinforced with technology and AML
Popular payment methods available
Reliable trading software.
The website is only available in English.
Mobile trading can only be conducted with the WebTrader.
Several jurisdictions might be prohibited from opening an account.
Should I Trade with MrGuru?
Traders who want to focus 100% on cryptocurrencies might find the offer provided by MrGuru attractive. That happens because there are tens of different tokens currently part of the offer, denominated in BTC, ETH, or USDT.
Also, there is the WebTrader, a proprietary platform designed specifically for cryptocurrency trading, integrating some of the most useful tools and features.
Another important factor to consider is the country of residence. Not all countries can open an account with MrGuru, so each individual should check if he/she is eligible to open an account with MrGuru.