MaxwiseREVIEW
August 20, 2021
The advances and sophisticated technology behind cryptocurrencies has allowed opened up the sector and allowed anyone to access the markets. Whether trading or investing in cryptocurrencies, it has certainly become an appealing way to invest.
Furthermore, the crypto industry has expanded into other tech industries and has also branched out into online gaming coins. Traders are always on the lookout for brokers with the best benefits and features to match their trading ambitions. It's certainly important to find a broker that can satisfy your trading requirements – one that can live up to the latest developments of the growing crypto industry.
Maxwise is a cryptocurrency broker that offers trading via an advanced platform ? a broker that is committed to satisfying its clientele, with safety and security as their top priorities.
Read on for our Maxwise review to determine if this broker can meet the increased demands of the crypto industry.
Maxwise platforms and tools
Maxwise's trading platform has been designed to cope with fast order executions and comes equipped with various charting tools and advanced indicators. The platform is fitted with the latest security technologies to protect trader funds from potential cyber threats.
When it comes to usability, the broker has tailor-made the interface with navigation and ease of use as a high priority. Providing access the crypto markets 24 hours a day, seven days a week, the platform is also packed with features and tools to make trading as intuitive as possible for beginners and experienced traders alike.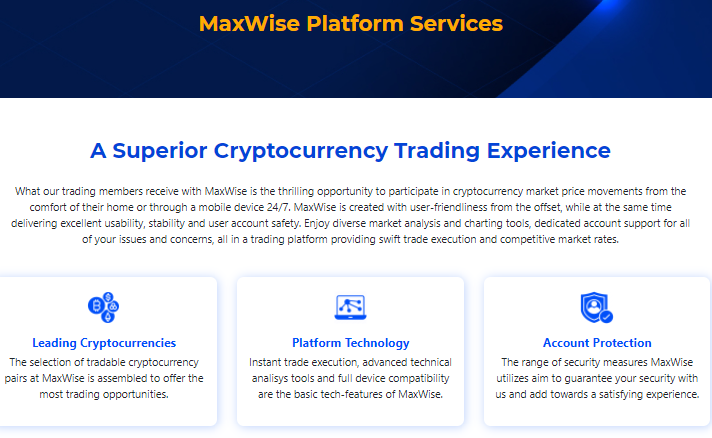 Maxwise research
While Maxwise has a blog section available on its website, there is a relatively small number of articles available at present. However, this is sure to become a valuable educational and informative resource for traders as it becomes further populated. Articles available at present include steps on how to start trading and insight into the recommended cryptos to follow. In addition, Maxwise also shares tips on safeguarding login credentials.
Maxwise Blog
Security
When it comes to security, Maxwise has various measures in place. These include an anti money laundering policy, payment and identity verification processes.
When it comes to security, Maxwise urges users to use secure passwords and to access the platform from their personal computers only, avoiding public or shared computers. The broker ensures funds are kept safe by utilising amongst the most effective security solutions available in the industry, consistently monitoring trading activity to ensure security is not compromised.
Full details of Maxwise's security measures are available via the broker's website.
Should I trade with Maxwise?
Maxwise has ensured to offer features that align with its top priorities ? customer satisfaction and security. The broker provides sufficient resources to ensure clients are well informed.
The trading platform has advanced indicators that enable traders to perform proper technical analysis without external charting tools, thereby streamlining the trading experience. As such, Maxwise has undoubtedly proven it is an ideal brand to partner with on your crypto trading journey.
Pros
Intuitive and easy to use trading platform
Latest security solutions to safeguard your funds
Trade cryptocurrencies 24/7
Access to trade major cryptocurrencies via one platform
Blog section containing informative reading material
Cons
Customer support does not operate on weekends
No tutorial videos available
The trading platform is not available in an app format