Equiti Capital UK LimitedREVIEW
May 05, 2021
Equiti Capital UK Ltd is a multi-asset financial broker based in the UK. The company was founded in 2008 and is part of Equiti Group Ltd. This brokerage uses Equiti UK and Equiti Capital as trading names. Equiti Capital UK Ltd's subsidiaries are Equiti US LLC, Equiti AM CJSC, Algorithmic Laboratories Ltd (AlgoLabs), and Bloom Management Ltd in New Zealand.
Equiti Capital is authorised and regulated by the Financial Conduct Authority (FCA) in the UK. Equiti Group has affiliated entities in two Tier-1 jurisdictions and five Tier-2 jurisdictions. Equiti Capital provides trading services to professional, individual and institutional customers.
FX liquidity providers and CFD liquidity providers transact as buyers and sellers and by doing so create markets. Equiti Capital is an expert in both FX and CFD liquidities. This Equiti Capital review supplies insights into the platforms and other distinguishable features of this brokerage.

Background
Equiti Capital UK initially traded as Divisa Capital when it launched in 2008. The broker aimed to address ever-increasing market gaps resulting from credit slumps. The then Divisa Capital endeavoured to provide accessible top brokering services, with actual liquidity, from top-tiered financial institutions and electronic communication networks (ECNs).
The brokerage's parent company, Equiti Group Ltd, is a fintech enterprise that specialises in online trading technologies and multi-asset financial products. This group operates in the Americas, the Middle East, Europe, Africa, and the Asia Pacific region. It has more than 300 fintech experts and provides services in nine languages worldwide. These services include brokerage services on individual, professional and institutional levels, which are rendered by the group's subsidiaries, such as Equiti Capital UK Ltd, and various affiliates.
Equiti Capital strictly implements governance and regulatory strategies. As such, all international operations comply with the holding company's principles and adhere to local and international regulatory stipulations. Apart from Equiti Capital UK, other licensed and regulated subsidiaries and affiliated entities of Equiti Group include:
Equiti Jordan, which is licensed and regulated by the Jordan Securities Commission.
EGM Futures DMCC, which is licensed and regulated by the Security and Commodities Authority in the United Arab Emirates.
Equiti AM, which is regulated and licensed by the Central Bank of Armenia.
Equiti Brokerage in the Seychelles, which is licensed and regulated by the Seychelles Financial Services Authority.
EGM Securities, which is licensed and regulated by the Capital Markets Authority in Kenya.
Bloom Capital LP, which is listed on New Zealand's Financial Services Providers Register.
These regulatory bodies and licensing requirements demand compliance with strict capital requirements. Under these laws, Equiti Group, its affiliates and subsidiaries are required to institute and abide by controlled internal regulations extending to matters such as customer money protection policies, prohibition of money laundering practices, risk management, and scheduled audits. Equiti Capital ensures strict compliance with all these regulatory requirements.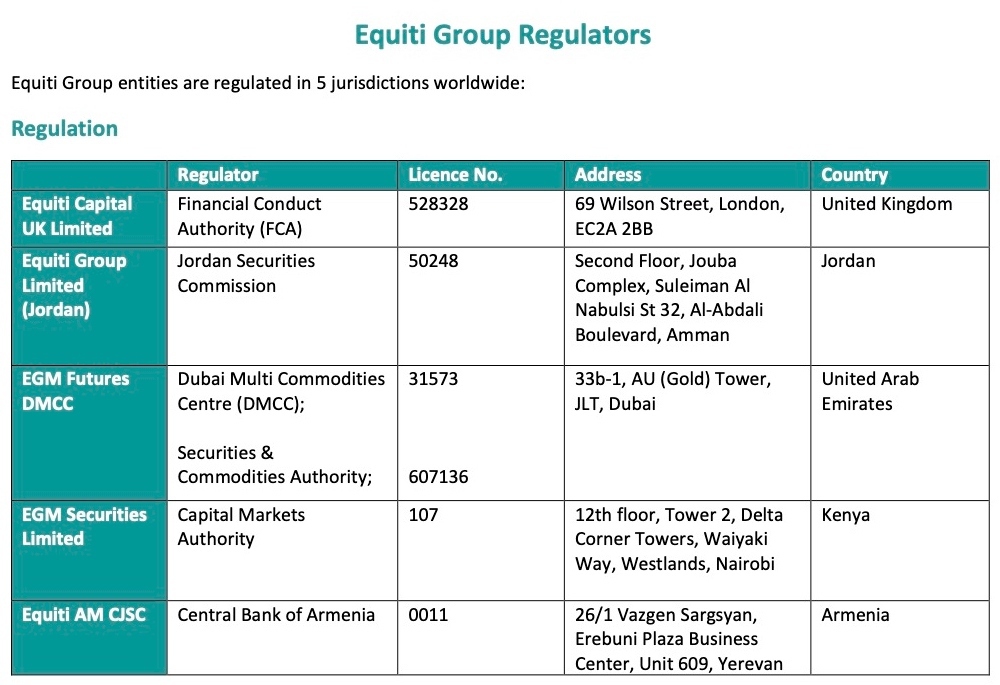 Equiti Group has spearheaded several initiatives and continually seeks growth and advancement opportunities. Since its foundation in 2008, Equiti Capital has established and sustained a reputation for outstanding customer service and support. This brokerage is known for its variegated client pool and inventive liquidity solutions.
Equiti Capital frequently seeks and investigates alternative growth opportunities to attract new clients and effectively grow its customer base. This brokerage offers prospective customers comparatively low entry costs into the market. Underpinned by its dedicated and continued drive to promote solid business ethics, the brokerage has built and maintained an acknowledged and respectable reputation in the industry.
Focal Points and Expertise
The company's primary focus is the provision of execution-only trading services in contracts for difference (CFDs) for spot foreign exchange (forex), metals, indices and commodities. Pre-trade risk management is followed. Customers can monitor and manage their accounts in real time on the selection of trading platforms offered by Equiti.
Equiti drives a progressive agenda and repeatedly places itself at the forefront of new initiatives in the industry. This company was one of a handful of brokerages that used the Currenex Viking and Classic platforms, in conjunction with the MetaTrader 4 (MT4) platform, as a bridge, to establish improved trading conditions.
In 2010, this brokerage, in recognition of the increasing acclamations of the MT4 platform, launched White Label services through its innovative tech department. This resulted in easier market entry, especially for smaller brokers. This move established instant access to experts and advanced technological platforms.
Equiti Group established another first when it partnered with technology provider PrimeXM. This business initiative led to the incorporation of MT4 and XCore technologies and the establishment of localised engine matching ? specifically the Equinix NY4 (New York), LD4 (London), and TY3 (Tokyo) engine locations.

The Equiti Vault platform, the Group's most recent technological advancement, is a new-generation trading platform promising more efficient, reliable and secure trading experiences. This platform offers top-of-the-range connectivity to Tier-1 financial institutions and non-financial institutions such as hedge funds and corporates. Equiti Vault provides direct access to global liquidities by tapping into servers in New York, London and Tokyo. With an integrated FIX engine, this is one of the speediest and most effective platforms in the industry. Equiti Vault is easy to access with a user-friendly interface and range of functions.
Liquidity
This brokerage provides gateways to top-tiered liquidity pools. Equiti Capital considers the unique requirements of customers, ranging from brokers, hedge funds, individual and professional traders, to institutions.
Tier-1 liquidity providers include banks, non-financial institutions, and ECNs. The different liquidity pools include retail, high-frequency trading, large feeds, and full amounts.
Foreign Exchange (Forex)
Known for its distinctive pricing, forex trading with Equiti Capital offers traders access to specialist markets through its central limit order book (CLOB). This tool is specific to Equiti UK and ensures higher levels of certainty in execution. The forex client base consists of asset managers, local banks, hedge funds, and family offices.
The services of this broker's forex include anonymity in execution, macroeconomic analyses and trade idea generations, market commentary, and unique skews and axes for both electronic and voice execution. Equiti Capital solely engaged in forex trading before expanding.
Traders can access US, UK and EU (European) shares with Equiti Capital. These include the best in technology, commodities and metals stocks.
Technology Partners
Equiti places a high premium on top market trading experiences. With this customer focus at the forefront, the Group is one of the market leaders in trading technologies and advancements. Ensuring and sustaining this market edge requires effective networking and partnering with technological experts. Equiti has partnered with the following technology providers to ensure excellence in its trade offerings:
PrimeXM
Your Bourse
oneZero Financial
FXCubic
Gold-i
Lucera Financial Infrastructures
This broker continuously explores and expands its technological interests. In doing so, Equiti Group aims to serve an even wider customer base across the world, maintain its commitment to new initiatives, and provide customers with access to the latest in trading technologies.

Trading Support Services
Being part of a global brokerage group enables Equiti Capital to empower its traders with up-to-date, quality, accurate information. This information includes detailed local and international market analyses and daily, weekly and monthly statistics.
The expertise of Equiti Group, and by extension Equiti UK, is widely recognised. This company's market analysts and experts regularly appear on large media networks such as Sky News and CNBC TV to share insights and forecasts.
Market Leverage
The business strategies implemented and followed by Equiti Capital ensure that this broker forms solid industry-related bonds to further the interests of its clients. This approach established access to top-tier liquidity pools. With a network of institutional and professional clients, Equiti Capital constantly strives to solidify exceptional interbank liquidity.
Initially, this brokerage was a prime provider of pure forex and extended all its efforts solely in this area. As it found its footing in the industry, Equiti UK expanded its services and embraced a wider selection of asset classes and trading tools. This expansion and growth now enable clients to customise liquidity pools and scale up in accordance with demand growths.
Equiti Capital is a reputable and acknowledged brokerage provider. This regulated and legitimate enterprise is backed by one of the prominent traders in the industry.