Digital Currency MarketREVIEW
February 04, 2021
Digital Currency Market Review: Introduction
Digital Currency Market is a broker which specializes in CFDs and cryptocurrencies. As a leader in providing online trading services, this company is compliant with the UK's Joint Money Laundering Steering Group (JMLSG) regulations, to prevent money laundering and terrorist financing. JMLSG is made up of the leading UK trade associations.
Since 1994, Digital Currency Market has been dedicated to hedge funds and corporate clients. They have also been offering financial services to retail investors for the past five years.
They are a company registered in the Commonwealth of Dominica with incorporation number 2020/IBC00049. Their official address, for inquiry by mail, is Cnr Old and Church Street, P.O. Box 2290, Roseau, Commonwealth of Dominica.
With over two decades of financial experience and expertise, Digital Currency Market offers clients over 200 tradable financial instruments, with spreads that start from 0 pips. This competitive spread, along with the fast execution speed of their platforms, has attracted retail traders and corporate clients to their secure trading environment.
Digital Currency Market Account Types
One of this broker's highlights is the number of account types offered to clients. They have no less than seven different regular accounts and five savings accounts. Each of these choices promises specific features and advantages. This way, if you are either a corporate client or a retail trader, you will surely be able to find the account fit for your needs and goals.
The Basic account requires a minimal financial balance of $250. This account automatically grants three free trading sessions with a senior analyst, as well as access to over 100 assets. For advanced and more experienced traders, the more progressive accounts are Bronze, Silver, Gold, Platinum, Diamond and Black.
There are also savings accounts to choose from. Monthly profits are as high as 5% to 25%, according to investment portfolios. Digital Currency Market requires a minimum period of three months for the savings account to be active.
If this option interests you, your choices are the following: crypto savings, a dedicated portfolio, a diversified portfolio, hedge fund savings and a personal banker account. A senior analyst is at users' disposal, should any questions regarding these savings accounts arise.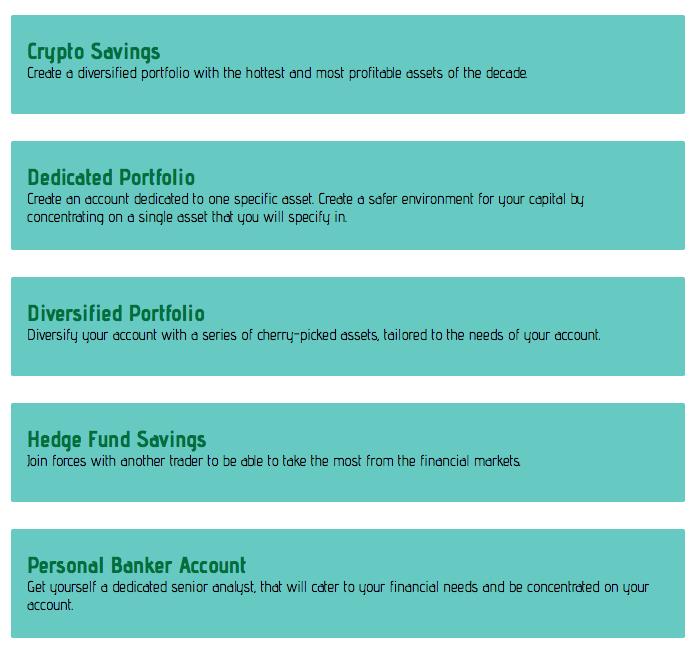 Commissions and Fees
digitalcurrencymarket.io deducts an inactivity fee off of clients who have been inactive for at least three months. This fee is only charged if you do not log in or trade during this period of time. On the other hand, Digital Currency Market does not charge a commission for opening and closing deals, which can potentially save traders a lot of money. Also, the broker seems to make great efforts at offering the most competitive spreads and margins on the market.
Trading Instruments
Digital Currency Market offers endless possibilities of forex trading, so you can be a part of the world's largest market, with an average trading volume of about $5 trillion. They offer major currency pairs such as USD/EUR, as well as plenty of minor and exotic ones.
Other trading instruments include cryptocurrencies, indices, commodities and stocks. Some of the hard commodities offered are gold, rubber and oil. Soft commodities available with this provider are corn, wheat, soybeans and more.
Trading Platforms
At the moment, Digital Currency Market grants access to the well-known MetaTrader 4 platform, alongside a WebTrader platform. This is the ideal combination for anyone wishing to trade both from the comfort of a PC or laptop and on the go from their mobile phone.
Deposits and Withdrawals

As mentioned before, deposits and withdrawals are regulated in accordance with the UK's Joint Money Laundering Steering Group guidelines. Deposits or withdrawals can be made with credit and debit cards, e-payments, and bank wire transfers.
Some Digital Currency Market traders may need to pay a withdrawal fee, and the amount depends on the withdrawal method you use. If you choose a wire transfer, the fee is 50.00 USD/EUR/GBP (according to the currency used by you). However, credit cards and e-payments offer a more convenient rate of 25.00 USD/EUR/GBP. On credit cards, a processing fee of 10.00 USD/7.00 EUR/5.00 GBP may apply.
Platinum, Diamond and Black account holders are exempt from all withdrawal fees. The Silver account grants five free withdrawals, and the Gold account grants ten of them. All withdrawals take three to five business days, in order for the request to be processed, and two to five business days to complete the withdrawal. This is a result of measures taken to verify transactions and assure account security.
Research Tools for Digital Currency Market Traders
The most attractive trading tools provided by the broker are an updated economic calendar, to stay on top of the market, and social trading, to connect you to other traders around the world. As for trading calculators, the brand offers both the financial and forex ones. That's not all, though, since the AutoChartist is also available with this broker. This significantly increases your chances of hitting hot targets.
Signals
Signals is an easy-to-use automated trading tool, relevant for both new and experienced traders. It also goes hand-in-hand with an analysis from an expert trader, for enjoying of best of both worlds: cutting edge algorithms and the human mind.
Pros and Cons
Pros
A wide variety of accounts offered
Several withdrawal and deposit methods available
Over 200 tradable assets, with competitive spreads and margins
Cons
Inactivity fee applicable after three months
Website content available only in English and German
Should I trade with Digital Currency Market?
Digital Currency Market is a registered broker which offers over 200 assets, many different accounts and reliable withdrawal and deposit methods. From their policies, it is clear they make an honest effort to fight money laundering and criminal financing.
Overall, our conclusion from the review above is that this company is reliable and offers attractive trading conditions. It is clear from the company's policies that it is aware of the importance of customer satisfaction. Take a look at digitalcurrencymarket.io if you need more information, since the website has everything you need to know.