CoinlifeREVIEW
September 29, 2020
Coinlife Platform Review
Introduction
Coinlife is a global financial services provider focused mainly on providing access to a wide range of cryptocurrencies. With valuations on the rise, crypto-assets benefit from increased popularity, and cryptocurrency trading popularity is parallelly increasing,
With Coinlife, customers are able to trade crypto with confidence, due to advanced technology, innovative tools, and an intuitive interface that makes the market accessible for anybody, even those with little or no experience.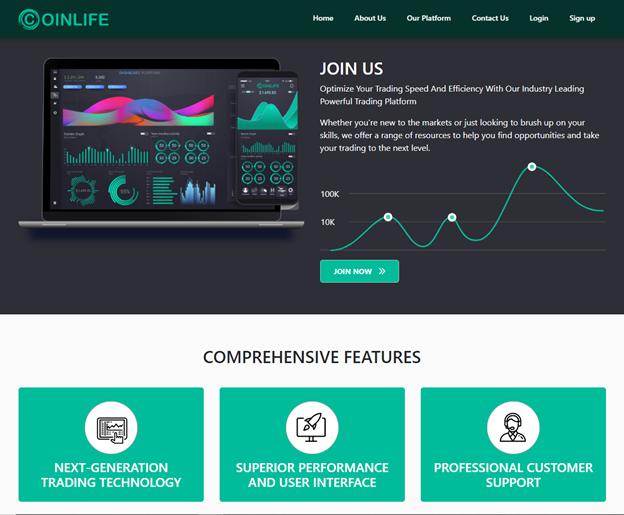 Providing a smooth trading experience of part of the brand's objective and to do that, it had developed a comprehensive trading offer that includes a broad range of crypto assets, from the popular Bitcoin and Ether, to altcoins like IOTA, Stellar, Tezos, or Tron. You now have the opportunity to join a welcoming community of crypto enthusiasts and start benefiting from the rising popularity of digital money.
Aware that the cryptocurrency market comes with risks, Coinlife integrated risk management tools in its platform, and to secure clients' funds, the platform relies on multiple security protocols. At the same time, the Privacy Policy shows what information is processed by the company and for what purpose. There are multiple reasons to believe that Coinlife can be a reliable trading partner, some of which will be highlighted in the current review.
Coinlife Account
If you can't afford to deposit large amounts into a trade account, with Coinlife there won't be any differences among customers based on their financial situation. That happens because the broker offers a standard account to all clients, and the minimum deposit is affordable to most of the people.

The account opening process has been made easy and fast, so no major inconvenience will occur along the way. All you have to do is provide your first and last name, email address, and phone number, and the account will be opened within a few seconds. Once on the dashboard, you can proceed with the other usual operations, like deposit, or providing the identification documents required by the KYC Policy (ID, proof of address, or proof of payment).
Also, from the account dashboard, you can visualize the transactions history, account info, or set up account security parameters. Simplicity is at the core of the trading offer designed by Coinlife and since democratizing access to crypto has been one of the main goals, the brand is fully aware some users need an intuitive trading ecosystem.
Crypto Trading Instruments
Do you want access to a multitude of crypto instruments, not just a few popular tokens? With Coinlife there is the opportunity to get involved in many different markets, including altcoins like Dash, IOTA, Stellar, Tron, Tezos, ZCash, EOS, Monero, alongside the popular tokens like Bitcoin, Ether, XRP, or Litecoin.
On top of that, the brand supports only contracts denominated in USDT, BTC, or ETH, meaning customers can benefit from liquid trading conditions and a smaller cost per trade. As opportunities had been arising across a broad range of altcoins, sometimes outperforming Bitcoin, the Coinlife coverage is of great use.
Trading Platforms
Another important takeaway from the Coinlife offer is the trading platform. Built from the ground up by the broker, the software had been optimized for the crypto market, and because of that, it comes with a simple interface yet enables fast trading execution.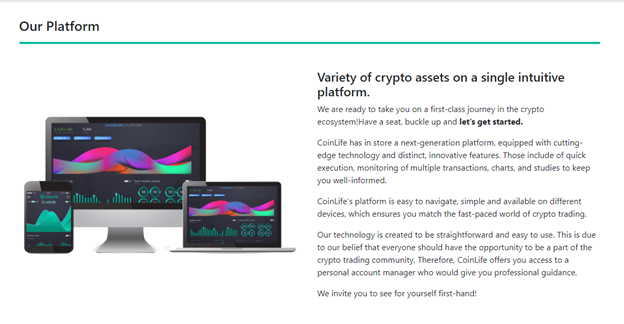 The Coinlife platform provides multiple trading tools like TradingView charts, market news, price alerts, the ability to make deposits from the platform, and asset alerts. Considering cryptocurrency trading requires a great degree of flexibility, the platform work on the same note, allowing traders to adjust windows, change between different languages and personalize charts according to their strategy.
At the same time, it can be used on mobile devices, Android or iOS, because it is browser-based and does not require any installation. Mobile trading is a necessity in 2020, considering the market volatility and high degree of uncertainty. All in all, the Coinlife platform comes with enough resources to facilitate crypto trading in optimal conditions.
Deposits and Withdrawals
Coinlife accepts both fiat and cryptocurrency deposits, enabling clients to hold funds in different currencies/cryptocurrencies. When it comes to fiat, traders can use a credit/debit card, or deposit funds using a wire transfer. For crypto deposits, they can transfer tokens from their wallet to the Coinlife wallet in Bitcoin or Tether.
To make a withdrawal, it is mandatory to use the method as with the deposit. It is also important to note that you won't be able to make a withdrawal before passing the verification process. That will require you to provide an ID, proof of residence, and in case you will use a credit card for deposit, proof of payment, as well.
With multiple payment options, Coinlife makes sure that all clients will have a convenient method to deposit/withdraw money from an account, without having to pay large fees.
Should I Trade with Coinlife?
Choosing to trade with Coinlife depends on your trading objective. This online trading brand will be appropriate if you want to focus on the cryptocurrency market and get involved in many different cryptocurrency instruments. Working with Coinlife will enable you to be part of the growing crypto sector and by trading altcoins, you can benefit from many promising crypto projects.
You must also take into account that the broker does not facilitate buying the underlying instruments and only enables traders to take advantage of both rising and falling markets.
Coinlife Review Final Thoughts
The cryptocurrency market has been changing along the way and now traders have the opportunity to trade on some of the most important cryptocurrencies. Coinlife wants to lead the trend for broad access to crypto trading and because of that, the trading offer it currently has available, opens the door for individuals around the world to get involved. With strong security features, a strong work ethic, and professionalism, the brand wants to be a trusted partner for traders in the ongoing crypto revolution.