CoinJumpREVIEW
January 06, 2021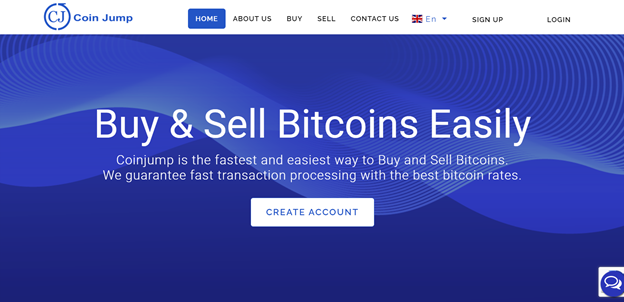 Introduction
CoinJump was established in 2020 as a cryptocurrency exchange platform designed for people who want to get involved in the industry via trusted services. The brand is owned by Cleobase OU and it is registered in Estonia with the Financial Intelligence Unit (FIU), license number FRK000973. This means CoinJump is authorized to provide services of exchanging a virtual currency against fiat.
It is currently enjoying a growing customer base, due to reliable services and also, because Bitcoin and Ethereum, the two cryptocurrencies covered, are among the best-performing assets in 2020.

Offering of financial investments
The main specialty of CoinJump is providing cryptocurrency exchange services for both BTC and ETH. Customers can either buy or sell and take advantage of leading market rates. Working with well-connected Bitcoin miners and some of the world's largest exchanges facilitates optimal exchange conditions for customers.
You can buy BTC with CoinJump and get it on a personal wallet securely. Investing in cryptocurrencies is popular in a world of fiat depreciation and now people see in Bitcoin and Ethereum plenty of upside potential. CoinJump also offers the ability to sell crypto, which means customers can sell stakes after any given period.
CoinJump exchange account
All customers can take advantage of a standard account, incorporating a simple user interface, so those with little or no experience can handle the task. No exchange operation can be conducted before the verification process had been completed. CoinJump wants these formalities to take little time and that is why verifying an account should run smoothly, especially during working days.
The CoinJump website is available in English and German. Providing professional customer support is part of the brand's mission and anybody can talk with a representative via the live chat feature available on the website from Monday to Friday.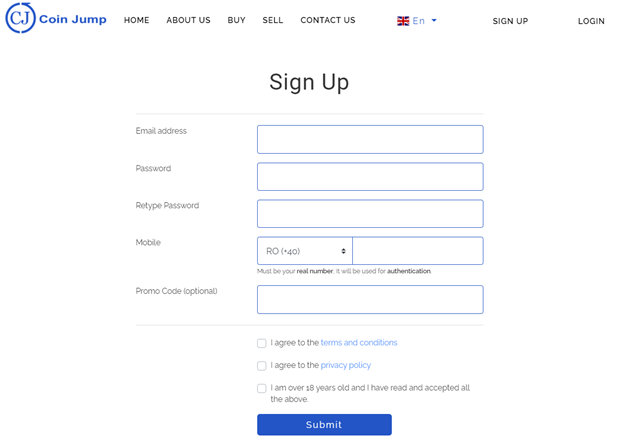 CoinJump commissions and fees
Like any other exchange platform, CoinJump operates on a fee-based system. According to the information provided by the brand, the current exchange fee is 4.7%, including VAT. There are no charges for deposits/withdrawals via credit/debit cards. Customers need to consider that other costs might apply when transferring funds using wire transfers, depending on the banks involved.
Also, blockchain-related fees can't be attributed to CoinJump. As compared to competitors, this operator has attractive fees, especially since users can literally buy or sell crypto, not derivatives as in the case of other brokerage houses.
CoinJump platform and tools
Everybody should have access to cryptocurrencies, according to CoinJump's vision, which is why users can take advantage of a web-based platform. With a simple interface, buying and selling crypto is no longer a difficult activity. There is no need for prior background due to the intuitiveness of the platform. For those who still need assistance, a team of representatives is available during working days.
CoinJump research
CoinJump is solely focused on providing crypto exchange services. That is why there are no research resources available to customers. The brand does not offer any advice and it is up for each trader to decide when the right time to buy or sell is. The exchange is the "middleman" which creates a bridge between retail users and the broad cryptocurrency market.
CoinJump mobile
Considering it relies on a web-based platform, the CoinJump services can be used on a mobile device without any hurdles. Whether you have an Android/iOS smartphone or tablet, the website runs ok, as long as there is a stable internet connection. The same user-friendly interface is available on mobile, as the brand does not make any concessions when it comes to accessibility.
It is worth mentioning there are no downloadable apps available right now. CoinJump manages to ensure strong security measures via its web-based platform and so far, it did not have any issues with that.
Pros and Cons
Attractive rates for both Bitcoin and Ethereum
Live chat support for customers needing assistance
Competitive trading costs for both buying and selling of crypto
Registered in Estonia by the FIU
Only two cryptocurrencies are currently covered
No Android or iOS app available
Should I exchange with CoinJump?
CoinJump is an exchange designed for anybody wanting to invest in physical crypto and take advantage of the upside potential in the market. Its services are best-suited for those who want to buy crypto and store tokens in a wallet, having a longer-term investing horizon, or wanting to use crypto for cross-border transactions as well as online purchases.
Also, CoinJump facilitates crypto selling and offers attractive rates. Bitcoin and Ethereum are the sole cryptocurrencies supported at present. The brand remains committed to expanding its coverage in the future, depending on the clients' demands. CoinJump is an optimal solution for people looking to exchange crypto via a registered entity. The license granted from the FIU confirms CoinJump is compliant with the latest requirements.