Arox CapitalREVIEW
April 23, 2021

Arox Capital is a brokerage promising innovation and strong security for a growing customer base interested in the financial markets and wanting to take full control over their trading career. With CFDs based on multiple asset classes, it ensures ample diversification capabilities, and thanks to optimised trading software, allows both beginners and advanced traders to join and trade.
Many new customers have joined the ranks of Arox Capital since it started operating due to access to top-tier liquidity, customer funds stored in segregated accounts, ultra-fast execution, and an overall powerful and secure infrastructure.
The financial experts are not lacking, given that there is a growing team of professionals ensuring that operations run smoothly at all times. Arox Capital executes trades at the requested quotes most of the time, based on 2019 slippage stats.
Working with multiple liquidity providers means low latency and smooth pricing. The Arox Capital security level for secure trading is optimal, as Amazon AWS and other protocols are being used.
Offering of Financial Investments
In terms of the financial assets covered by Arox Capital, no concessions have been made. The broker makes sure that customers get access to the right tradable instruments. With CFDs based on FX, stocks, indices, commodities and cryptocurrencies, it isn't difficult to constantly have a diversified exposure on the market.
Stocks from different countries, currency pairs including exotics, and a broad range of cryptos make Arox Capital a competitive place to be in 2021. Spreads are variable, starting at 0.1 pips, and commissions vary based on the instrument or the account type chosen.
The variety of Arox Capital trading products is something to note. This reinforces the fact that the broker has global ambitions and wants to continue attracting new customers.
Arox Capital Trading Account Types
Trading with an account at Arox Capital is affordable ? the Bronze account, the first option at hand, does not require a very large deposit. A relationship manager will be in charge of the customer once the account is opened.
With features such as Trading Central Premium Signals, private trading sessions, and access to the Event Room, the customer's view on the markets at any given moment is broadened. Thankfully, for those with higher expectations and more capital available, Arox Capital also offers Silver, Gold, Platinum and Premium accounts.
With each one of these, new features are unlocked or upgraded according to the table provided on the broker's website.
All customers can benefit from webinars, seminars, access to online education, online chat support, and variable spreads. Also, the variety of funding options available will let you choose the best way to make a deposit or withdrawal.
Arox Capital Commissions and Fees
Although spreads and overnight swaps are the main trading costs, traders also need to consider that there are also commissions. This charge will be available as standard for Bronze and Silver accounts, while the larger accounts get to benefit from a commission discount of up to 50%.
Other relevant fees that traders need to keep track of are mainly associated with withdrawals. Especially for international bank transfers, they need to be aware of the potential costs that might be encountered. Also, once an account is active and funded, there has to be regular trading activity in order to avoid the inactivity fee. More information on this topic can be found in the terms and conditions.

Arox Capital Platforms and Tools
Arox Capital WebTrader is a customised platform for the modern trader who is aiming to get involved in the financial markets using optimised tools and features. To conduct technical analysis and manage risk, this solution comes packed with advanced charting, multiple order types, price alerts, and one of the most important features: Social Trading.
Not all traders joining the ranks of Arox Capital have enough experience, which is why the Social Trading service is available for everyone, free of charge. Traders can see the trading ideas of professionals and get more insights.
On desktop, laptop or mobile devices, WebTraders works the same and carries the same integrated tools. Its simple and intuitive interface is appropriate not only for beginners, but also for experienced individuals who are wanting to act fast when an opportunity arises.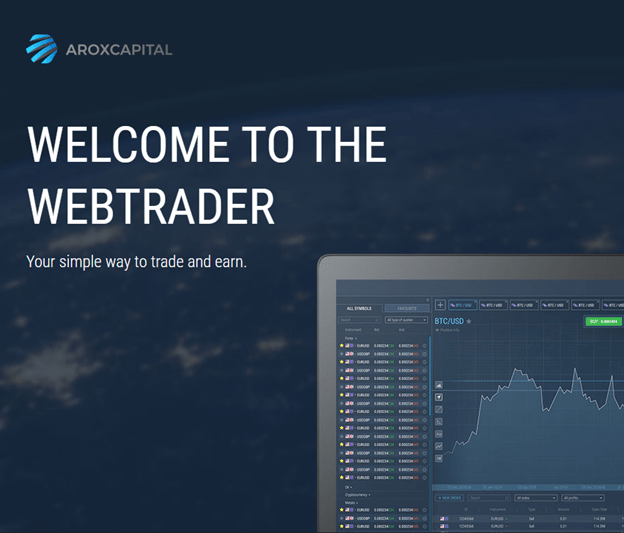 Arox Capital Research
To conduct proper market research, multiple resources are available at Arox Capital. Trading Central Daily Newsletter and Premium Signals provide insights into the markets, as this third-party provider continues to grow in popularity. Also, the private one-on-one trading academy, private trading sessions, and access to event rooms are opportunities for traders to learn more about the conditions in the financial markets.
Anticipating future price action moves is taken to a different level when traders don't need to rely solely on the past price performance. Arox Capital's research capabilities are in line with the latest requirements in 2021.
Should I trade with Arox Capital?
If you are a retail trader ? beginner or experienced ? an account with Arox Capital can provide enough resources to get involved in the markets properly. This broker has been making adjustments to its trading offer since it was launched, as financial markets are in constant motion. The start of the COVID-19 pandemic marked an important milestone for the retail trading community, and with so many new traders joining the industry, only a customised trading offer can suffice. Arox Capital has shown resiliency, transparency and flexibility ? some of the qualities seen with trusted brands.
Pros
Access to a private one-on-one trading academy
Offers multi-asset coverage
Possible to start trading with as little as ?200
Cons
Not all asset classes are covered
Customer support is available only in English