ApolloFinancesREVIEW
May 10, 2021
ApolloFinances was founded in 2020 and is based in the Republic of the Marshall Islands. Regulated locally, this broker provides a CFD and forex online trading platform. Among its attractions are CFD trading in metals, forex, indices, stocks, and futures from a single account.
Backed by its experience in one-on-one brokerage services to experienced investors, ApolloFinances established its trading platform as it gained an increasing number of small and mid-range investment possibilities. ApolloFinances' current online platform covers all types of investments.
ApolloFinances promises pricing, execution speeds, platforms, product ranges, support, and market analysis compliant with the needs and requirements of traders. This review examines the details of this broker's accounts, accessibility and offerings.
Offering of Financial Investments
ApolloFinances covers a comprehensive range of investment options that aim to cater for novice and experienced traders alike. This broker offers trading in over 100 assets, which include:
Forex
More than 45 currency pairs
Commodities CFDs
Shares CFDs
Index CFDs
Futures CFDs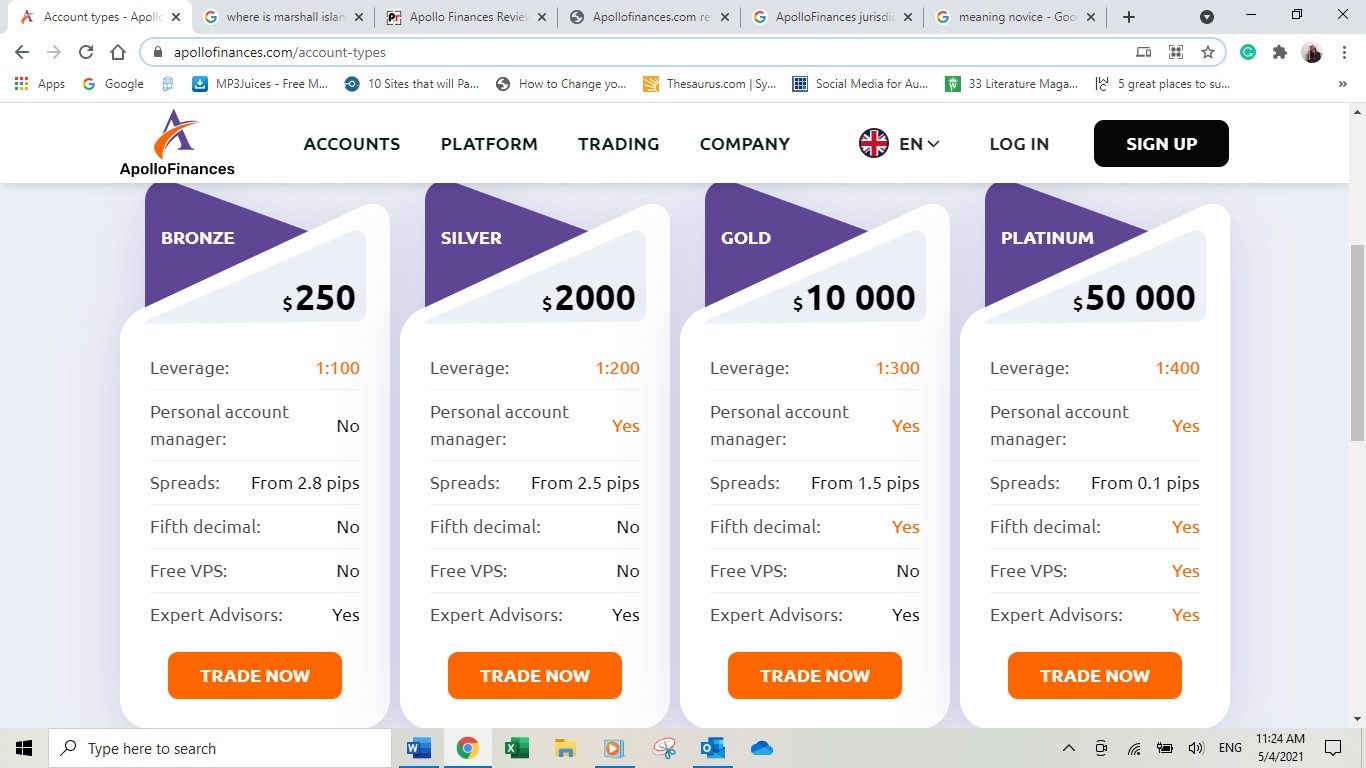 ApolloFinances Trading Account Types
ApolloFinances offers traders a choice between four accounts. This broker aims to cater for all levels of traders and links reasonable spreads and leverages to its respective accounts. These are categorised as the Bronze, Silver, Gold and Platinum accounts.
Bronze account:
Designed with beginner traders in mind, a minimum deposit of $250 is required to open an ApolloFinances Bronze account. Lauded for its range when compared to similar accounts, the Bronze account's major spread is below industry standards on the market and it has a stop-out level of 5%. This stop-out level is helpful when low margins are in play.
This account also allows scalping, enabling traders to close trades with small amounts of profits. However, the Bronze account does not offer a virtual private server (VPS), fifth decimal, or a personal account manager. Additional features include:
Leverage of 1:100
Spreads ranging from 2.8 pips
Expert Advisors
Silver account:
The Silver account is a step up from the Bronze account with a slightly tighter spread and the availability of a personal account manager. Prospective traders need a $2,000 deposit to activate this account. ApolloFinances' Silver account features include:
Leverage of 1:200
Spreads ranging from 2.5 pips
Expert Advisors
Apart from the personal account manager, this account does not vary greatly from the Bronze account. Similarly, the Silver account does not provide traders with a VPS or fifth decimal. Considering the difference in comparative deposit requirements, this account is only a marginal step up from the Bronze account.
Gold account:
ApolloFinances' Gold account requires a $10,000 deposit and includes a personal account manager and fifth decimal. The spread on this account is much tighter, but a VPS does not form part of the account offerings. The Gold account offers traders:
Leverage of 1:300
Spreads ranging from 1.5 pips
Expert Advisors
Platinum account:
The Platinum account is all-inclusive and aimed at experienced traders. In addition to a personal account manager, traders have access to a VPS. This account requires a $50,000 deposit and features the following:
Leverage of 1:400
Spreads ranging from 0.1 pips
Fifth decimal
Expert Advisors
This broker verifies all accounts in accordance with international law. This is done to prevent fraudulent activities, money laundering and acts of terrorism. Prospective account holders will be requested to provide proof of identity and residence. Documents of proof include:
Photo (front and back) of a valid driver's licence.
Front and back of a residence permit or foreigner registration card.
Two-page spread of a valid passport or front and back of an identity card.
Photo of utility accounts not older than three months. These may be statements of electricity, gas or phone utilities.
Three months' bank statements or any other official documentation confirming domicile.
ApolloFinances Commission and Fees
ApolloFinances charges no depositing fees. Traders must, however, keep in mind that this does not pertain to the fees and commissions charged by financial institutions. As mentioned above, deposit fees are:
$250 for a Bronze account
$2,000 for a Silver account
$10,000 for a Gold account
$50,000 for a Platinum account
There are no commissions levied on major trades. This applies to all of the ApolloFinances accounts.
ApolloFinances keeps client and company money separate by keeping client funds in investment-grade, top-tier banking institutions. Deposits can either be done via credit or debit card, such as Visa and Mastercard, or bank transfers. The broker also accepts other major credit cards. Deposit methods may also vary according to the client's country in line with local regulations. Deposits are usually cleared within minutes, but some deposits may take days to verify.
Withdrawals are also processed via debit or credit card and bank transfers. The broker takes between 24 and 72 hours to process withdrawals. ApolloFinances implements withdrawal prioritisation, which means that higher-level account withdrawals are processed first. It may take between five and seven business days for the withdrawn funds to reflect in the trader's bank account.
Withdrawals to a credit or debit card are processed as refunds. Any surplus withdrawal amount is transferred through a wire transaction. This means that if a trader opened an account with $250 and wishes to withdraw $500, then $250 will be refunded to the card, and the remaining $250 will be processed via a bank transfer.
ApolloFinances implements the following withdrawal rules and fees:
$20 is charged on bank transfers (wire transfers).
If less than $500 is withdrawn, a $25 unit fee of the original currency is charged. The original currency is the currency in which the deposit was made ? either USD, EUR or GBP.
The minimum withdrawal amount is 250 of the currency a trader used to make an original deposit.
This broker does not charge a fee for the closing of accounts.
ApolloFinances Platforms and Tools
ApolloFinances uses the MetaTrader 4 (MT4) platform, which provides traders with technical and fundamental analysis tools, multiple trading orders, and comprehensive security.
The platform provides a step-by-step guide to orientate traders. MT4 allows traders to customise platforms, use available charts, and incorporate Expert Advisors. Additionally, traders can also automate selected tradings and use the wide range of trading tools to aid decision-making.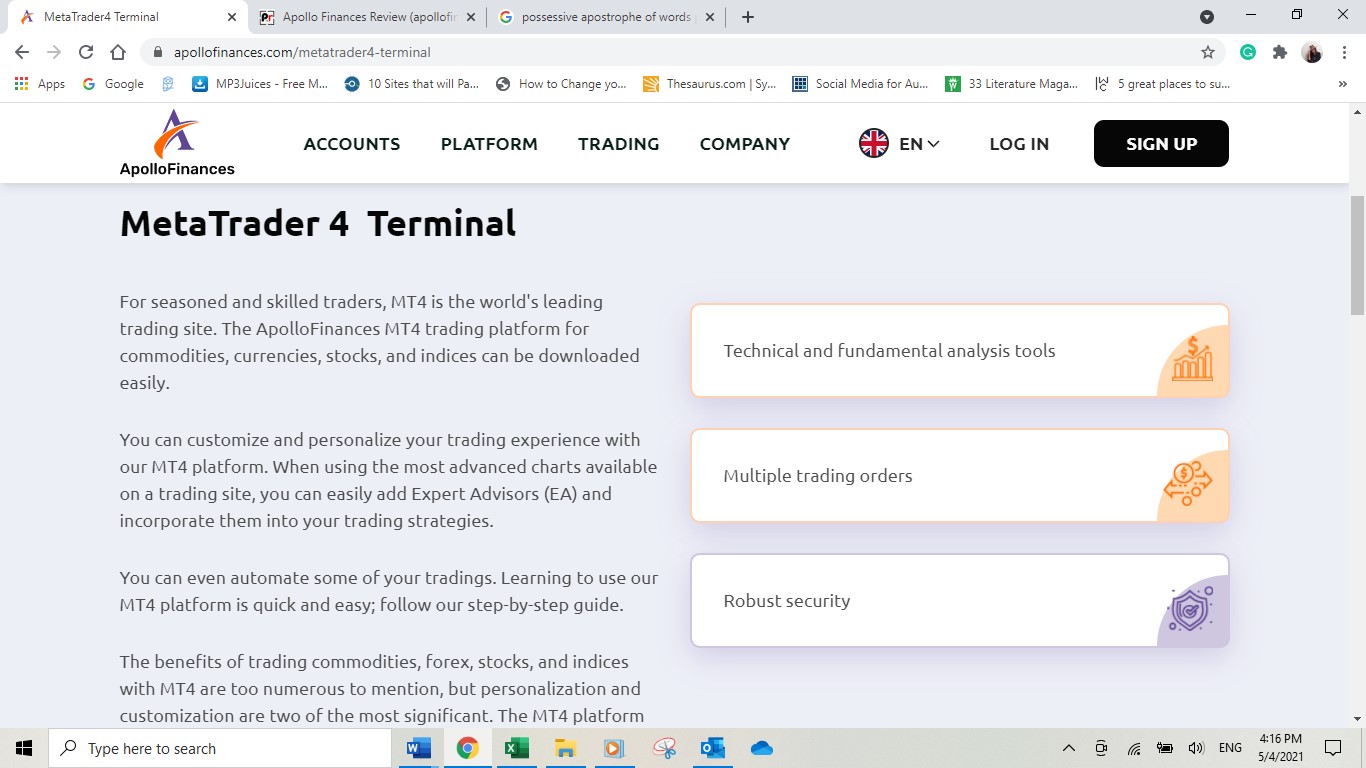 ApolloFinances Research
ApolloFinances has an education section containing MT4 manuals. These educate traders in the basic concepts and techniques of trading. This broker's tutorials are especially valuable for beginner traders.
The broker's MT4 guide covers topic such as:
How to connect to the MT4 platform with different devices such as a MacBook
The types of mobile platforms available on MT4
Altering or deleting orders
Admin-related queries such as changing passwords
How to put limits on orders
ApolloFinances Mobile Trading App
Traders can use the MT4 mobile trading app. This app is compatible with both Android and iOS devices.
The MT4 mobile trading app provides traders with most of the functionalities of the desktop and web versions. However, the mobile app does not give traders access to Expert Advisors.
The MT4 mobile app is one of the leading mobile trading apps in the industry and most traders respond positively to its use. The advantages of the app include:
Placing up to eight pending orders
Technical tools such as charting
Segregation between terms of orders, positions and transactions
Should I trade with ApolloFinances?
ApolloFinances, although recently established, is backed by its one-on-one brokerage services to top investors. Locally regulated and licensed in the Republic of the Marshall Islands, this broker provides traders with global investment offerings.
Pros
Offers 100+ trading assets
Provides prospective traders with a choice between beginner and advanced trading accounts
Uses MT4, the world's leading online trading platform
Leverage up to 1:400 is available
Customer support can be contacted in a number of different ways
Cons
Does not provide a great variance on spreads between its two start-up accounts
MT5 is not currently offered
No clear regulatory framework is displayed on the site
FAQs
Is ApolloFinances a safe broker?
ApolloFinances is licensed and regulated in the Republic of the Marshall Islands, which assures traders that this broker is above board and not a scam. The broker also has stringent verification processes in place to ensure that its account holders and trade-related dealings are legit.
What is ApolloFinances?
ApolloFinances is a brokerage company that uses MT4 as its online trading platform. The company offers a wide range of investment options. These include more than 45 currency pairs and CFD trading in precious metals and commodities. Based in the Republic of the Marshall Islands, this broker provides global trading services.
Does ApolloFinances offer a demo account?
ApolloFinances does not offer demo accounts on any of its four account options. The broker believes that demo accounts make prospective traders complacent and that they lose sight of the real-money risks involved in trading. This broker does, however, provide sufficient educational material to help beginners to get started.