AlphaLiveREVIEW
December 23, 2020
AlphaLive Crypto Review
Introduction
AlphaLive is a cryptocurrency trading platform fully committed to maintaining the safety of your funds by using today's most effective security solutions. With next-generation trading technologies and common-sense policies designed for customer protection, the brand wants to provide a safe and trusted trading environment, at a time when cryptocurrencies still have to suffer from security vulnerabilities.
That's not the case with cryptocurrency trading because users don't have the underlying instruments and don't need a wallet or a custody service to hold them. AlphaLive enables people from all around the world to trade a broad range of cryptocurrencies, negating security vulnerabilities while at the same time making sure they can take advantage of many different cryptocurrencies.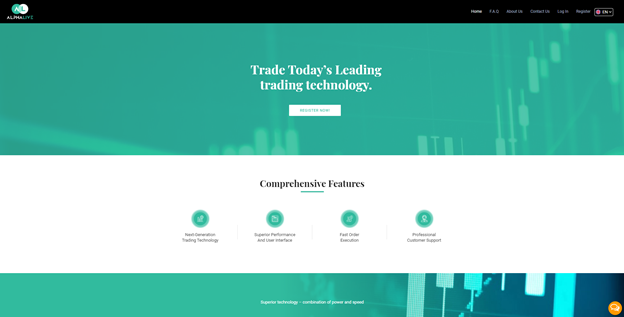 Based on these features, AlphaLive is at the forefront to combat these threats effectively and ensure that all customers will be able to take advantage of the endless possibilities in the cryptocurrency industry.
AlphaLive Trading Account
As traders demand access to the best trading conditions, AlphaLive took this in mind and did not create any roadblocks along the way. A single standard account is available for everybody, regardless of the country of residence, funding capabilities, or trading style. In doing so, the brand hopes to democratize access to crypto trading services for an increasing audience.
Because its services are available for a wide English and German-speaking audience, there are many people who can take advantage of the AlphaLive offer. By contacting AlphaLive via live chat or email, any individual can learn more about the trading account and some of the main trading benefits.
Trading Platforms
A proprietary web-based platform and an Android app are currently the options available at AlphaLive. Both come with a series of trading tools and features that have proven to be effective in the crypto space.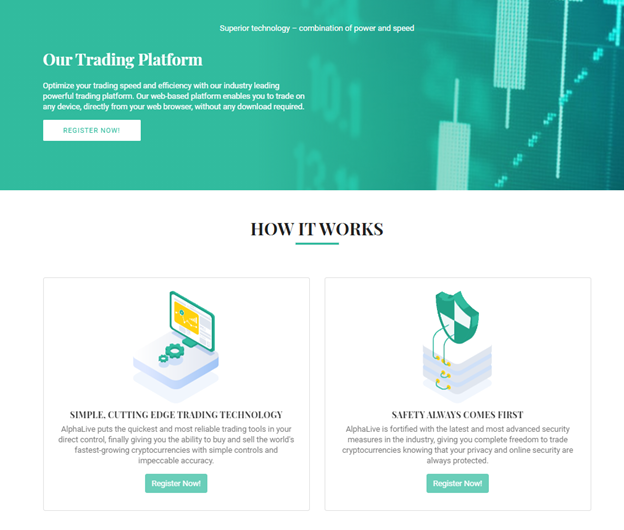 In order to provide a unique trading experience, AlphaLive decided to rely on proprietary trading software, instead of an existing solution. That is why it's customers will benefit from a personalized trading experience.
Security and AML
To maximize security, AlphaLive uses the most advanced security measures available in the market. In terms of account security, each user will need to set up a strong authentication password, that will always remain confidential, to prevent unauthorized access to any given trading account.
At the same time, AlphaLive is fully dedicated to implementing anti-money laundering and KYC policies, to prevent illegal and prohibited activities that might endanger customer funds or personal information.
AlphaLive is thus required by law to identify and prevent these activities and to do that, it has an identification procedure applicable for all customers. This means that when opening an account, identification documents will be required to help establish an identity for all customers, especially when a withdrawal is requested.
Keep in mind that all users will need to provide a photo ID, proof of residence, and even proof of payment in case a credit card has been used. Its compliance office will process each document and make sure that everything is legit.
Trading Instruments
At AlphaLive, traders benefit from a rich selection of cryptocurrencies and can take advantage of new opportunities emerging in large tokens like Bitcoin, Ether, or Litecoin, while at the same time, benefit from the increased volatility of altcoins such as Dash, Ethereum Classic, IOTA, or Tezos.
With tens of different cryptocurrencies part of the AlphaLive offer, customers are well-positioned for any new major move that could occur in the market. Volatility had been consistently elevated over the years, considering cryptocurrencies are still in their early stages.
AlphaLive's main goal is to help traders get involved from an early stage and find how the blockchain will impact both cryptocurrencies and the broader financial markets. Rapidly changing valuations create an ideal environment for crypto trading and with AlphaLive, there are plenty of trading benefits available.
Deposits and Withdrawals
Credit/debit card, wire transfer, and cryptocurrency are the funding methods currently supported by AlphaLive. Although the registration and deposit processes are easy and do not carry any additional requirements, things change when it comes to withdrawals.
The AlphaLive withdrawal Policy requires all customers to provide a photo ID, proof of residence, and proof of payment, in color image format. Only after the documents are reviewed and officially approved by the relevant AlphaLive staff, a customer will be able to send a withdrawal request and get it approved.
Once approved, withdrawals via wire transfer or credit card could take up to 10 to 14 business days, sometimes due to reasons that don't have anything to do with AlphaLive, but more with how banks transfer the funds.
Research Tools Offered to Traders
Because the AlphaLive trading platform includes TradingView charts, traders are able to do intensive background research on the past performance of each cryptocurrency supported by the brand. They can find critical support/resistance areas and see how the price reacted around them, understanding how market participants could react in the future.
On top of that, each customer will benefit from an account manager. For beginners, basic trading information is provided, as well as how to use the platform. Advanced traders are little at a disadvantage considering there are no many advanced research tools available.
Still, AlphaLive does a good job of providing some of the most popular and efficient research tools. All cryptocurrency traders use technical analysis in their trading regime, which is why studying prices more thoroughly can increase trading accuracy.
Pros and Cons
Strong security and safety protocols designed to protect customer data and finances.
Many comprehensive features available, including fast order execution, professional customer support, and advanced trading technology.
A trading community traders can trust.
AlphaLive relies solely on proprietary trading software
Only an Android app currently available.
Should I Trade with AlphaLive?
There are several important advantages when trading with AlphaLive:
Broad cryptocurrency coverage;
Advanced trading technology;
And a customer-oriented approach.
With all that combined, the result is a comprehensive trading offer designed for the cryptocurrency market. This means that people who want to focus on this innovative sector will find what AlphaLive is providing very attractive.
AlphaLive wants to be part of the growing crypto industry and to do so, it remains fully committed to providing competitive trading services and coverage for cryptocurrencies that will continue to have high growth potential. Traders can trade many different tokens denominated in BTC, ETH, or USDT, getting rid of the limitations currently in place with most of the well-known trading brands.