7OnlineREVIEW
February 03, 2021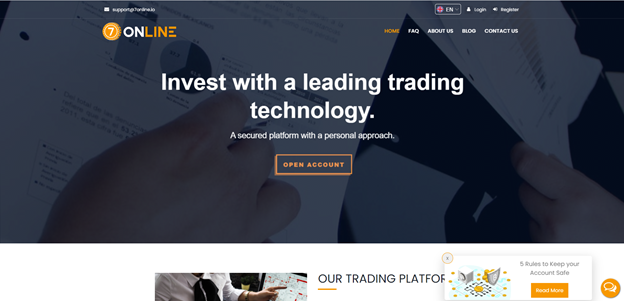 Introduction
7Online is a relatively-new online trading platform with a personal approach, designed to help retail traders from all around the world invest in cryptocurrencies with leading trading technologies and competitive trading costs.
A year ago, few would have believed that Bitcoin would manage to reach $40,000 and yet that actually happened. On the back of the BTC exuberant performance, altcoins have also seen massive gains, yet an issue had arisen ? few brokerage houses have expanded their offering in the meantime.
To compensate for that flaw, 7Online is addressing an increasing audience of cryptocurrency traders with a very generous crypto offer, as well as other services, including customer support, and educational assistance.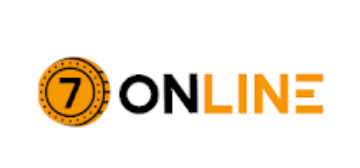 Offering of Financial Assets
This is a place where crypto traders have the ability to get involved in tens of different tokens. Not only is 7Online covering Bitcoin, Ether, Litecoin, or XRP, but also, its customers can gain exposure to other promising altcoins, including EOS, Monero, Dash, IOTA, Tezos, Stellar, Neo, and Cardano.
On top of that, the brand is fully committed to flexibility and wants to constantly upgrade its coverage, when there is a demand for other cryptocurrencies. 7Online is thus a very competitive crypto trading platform, managing to deliver on the needs of retail crypto enthusiasts. All of the instruments can be bought or sold, without any limitations.
7Online Trading Account
A single 7Online trading account integrates all the benefits available with the brand. Despite its international ambitions, it is important to note that there could be several restricted jurisdictions where traders can't open an account.
For those that can, the sign-up process is very simple, designed to be accessible for beginners with little or no prior trading background. Once the account is opened, traders can proceed with a fast deposit using a credit/debit card or wire transfer, and complete the account registration process by providing the additional personal details and submitting the identification documents.
In line with its AML/KYC requirements, 7Online requests a photo ID, proof of residence, and for those using a credit/debit card, even a proof of payment. It is mandatory for all customers and one of the most important steps to become eligible to submit withdrawal requests.
7Online Commissions and Fees
Because the services provided are for traders, the good news about 7Online is that there are no trading commissions involved. You can get access to all the crypto instruments and benefit from the usual trading costs ? spreads and overnight swaps. Be aware that these will vary depending on the liquidity of the instruments, as well as the market volatility.
Speaking about fees, all customers need to take into account the inactivity fee that will apply only if there is no activity for more than 60 days. Also, some payment methods have fees involved. For bank wire transfers, customers could be charged interbank transfer fees or other costs that don't have anything to do with 7Online.
7Online Platforms and Tools
At 7Online traders can find a personalized ecosystem, built around a proprietary web-based platform, promising an optimal performance, even when trading crypto. You should probably be aware of the market volatility and its implications on trade execution and pricing. Due to all of these challenges, this brand offers its solution for getting involved without having to worry about anything else than the trading process itself.
The platform can be accessed on any type of device, by simply logging in via 7online.io. Because this is an inclusive brand, the user-interface was specifically developed to be appropriate for both beginners and experienced traders.
Security is another key issue in the cryptocurrency market and with the 7Online platform, customers won't be exposed to vulnerabilities, as they will when buying/selling physical crypto via traditional platforms.
7Online Research
Thanks to all the trading resources integrated into the platform, 7Online customers can do in-depth research for all instruments covered by the brand. They can see how the price action performed historically and find critical support/resistance areas. Also, there is the 7Online blog, where the provider is constantly updating with relevant content for the industry. Even though there could be room for improvements, the brand is showing commitment to ensuring access to a variety of research resources.
7Online Mobile Trading
Alongside the WebTrader, users have access to an Android trading app, designed for remote trading. The main goal of 7Online is to provide customers with a platform of choice, integrating security and reliability. Based on its vision, cryptocurrencies are part of the future and it is essential to ensure an optimal environment where traders from all around the world can take advantage of price movements.
In case cryptocurrencies will turn out to be a life-changing trend, 7Online wants customers to be fully equipped with proper tools. The app available on Google Play is an important part of the brand's ecosystem, since it holds the task of ensuring smooth access to the markets, even while on the go.
Traders need to constantly monitor their trading accounts since this approach helps them reduce the risks associated with unexpected market moves.
Pros and Cons
A generous selection of cryptocurrencies available
Flexible and secured web-trading platform
Customer support available via live chat 24/7.
No support for other asset classes
MetaTrader 5 not a supported platform
Limited educational resources are available.
Should I Trade with 7Online?
7Online is showing complete transparency with regards to its services and wants to attract customers who want to experience cryptocurrency trading via its platform. This is an optimal place for people that want to focus their full attention on the crypto market. The ecosystem had been built from scratch to ensure the best conditions for crypto traders.
In case you live in a country that's not part of the restricted jurisdictions and cryptocurrency trading is your main focus, then 7Online is one of the more attractive choices available. More information about the services covered, as well as assistance via the live chat can be found at 7online.io