Qinox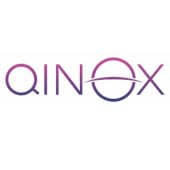 Focused on the Forex industry, Qinox Tech is an established technology company based in the UK. It is headquartered in London, a city still regarded as a world financial centre that provides unrivalled access to global markets.
The company offers a range of different solutions for Forex brokers that allow them to enter into the Forex market and to start a Forex brokerage operation.
Qinox software solutions offer new brokers a high-quality service backed by the latest technology. In addition to those services that Qinox provides for its clients, its consultation team's expertise helps customers grow their business to the highest level.
The company has considerable skills and experience in the Forex market, so it combines that knowledge with the technology it provides to help Forex brokers increase profit levels. In such a highly competitive market, this can be an extremely beneficial and helpful service.
Clients of Qinox have access to several account levels. Each has a different pricing strategy in place, with the lower level accounts offering a base-level service and the higher-level offerings allowing access to the entire range of Qinox services. The beginner and start-up accounts offer brokers an offshore licence, while the growth account provides a high-level licence.
The growth account also has a broader range of services that brokers can offer clients. The beginner and start-up accounts allow brokers to provide Forex, CFD and Stocks trading, and the growth account adds crypto trading to the available services.
The platforms that Qinox provides are wide-ranging. There are mobile, web and, desktop platforms available. Those that sign up as a broker using Qinox Tech can therefore offer a range of high-quality platforms. There are also grey and white label platforms on offer. The beginner account allows brokers to provide grey label MetaTrader 4 and 5 platforms, while the start-up and growth account enables the use of the white label version of the MetaTrader 4 and 5 platforms.
The services of Qinox are split between three distinct areas: financial, technological and, legal services. In terms of financial services, Qinox allows brokers to provide everything from Forex to blockchain technology. It means that no matter what trading areas a broker wants to offer its clients, Qinox delivers the ability to do so.
The technological services on offer from Qinox cover different trading platforms in the main. However, it also encompasses security and analytical tools. That allows Qinox to provide its customers with everything needed to create a safe and secure brokerage platform.
The legal service that Qinox offers covers all issues that might crop up for Forex brokers. This is a vital service because Forex brokers require robust legal cover when providing the ability for clients to trade.
Qinox concentrates on six main areas to provide what its customers need to be able to operate. Firstly, it offers brokers the means required to build up the infrastructure of a business. That input can facilitate the upgrade of facilities already in place or deliver a ready-made infrastructure for a financial broker.
Secondly, it offers a full consultation service. Brokers can get in touch with the experts at Qinox for advice on all the different financial brokerage areas. It covers financial management, financial technology, business management, and lead generation.
Thirdly, Qinox clients can utilise a full website design and development service. A bespoke design ensures that each broker under the Qinox banner has a website created to their specific branding requirements.
The fourth area that Qinox covers is a full payment solution for its brokers. It allows them to offer customers various methods of payment. There are also prominent safety protocols in place that assure customers they can fully trust the broker. Payment solutions are a massively important aspect of the brokerage process, so it's encouraging that Qinox devotes so much time to provide an excellent and effective solution.
The fifth element is the white label solutions. Qinox excels in this area by offering a full dealing desk, online and mobile trading terminals with white label capability and, payment merchants.
Finally, it also has full MAM/PAMM capabilities. Therefore, brokers can efficiently manage clients' money while offering investment opportunities.
What's also extremely important is that Qinox has a full VPS service in place. A fully functional backup power supply runs the VPS, so if the power in a broker's area fails, the business will still be able to offer its customers an active service. That is vital because it ensures that Qinox customers can provide reliability at all times. The virtual private server guarantees that a broker using Qinox services will stay online even in the most challenging circumstances.
The above is just a sample of what Qinox offers its customers. With Qinox technology and support, brokers can provide a competitive and profitable service for their clients. Also, Qinox services are fully scalable, so each customer can receive the level of service they require within their budget.
Qinox is a global business providing its services to several countries around the world. Comprised of several experts, the Qinox team has experience in various financial fields. While Forex broking is its main area of expertise, it also has CFDs, stocks, and cryptos as part of its product portfolio.