Capital.comREVIEW
December 14, 2021
Capital.com is a breath of fresh air on a broker landscape that has become proliferated by virtual storefronts pretending to be top of the line. Founded in 2016, the firm began business in June of the following year. It acquired 2m registered clients in short order due to its commitment to tight spreads, broad asset access (6,000+ tradable markets) and innovative trading platform offerings. In the first half of 2021, the broker grew its registered account base by 400%, an astounding feat for a company whose mission is "to make the world of finance more accessible, engaging and useful".
Capital.com has five global offices and complies with major regulators in each jurisdiction, including the FCA, CYSEC and ASIC. Funds are safely segregated in top tier banks, and all data is encrypted to the highest of standards. There is full transparency regarding management bios, office address disclosures and low fee commitments. A professionally prepared whitepaper seals the deal. From the moment the broker's home page loads, the professionalism is evident. It is also apparent that this broker is one of the up-and-coming leaders in the industry. A Capital.com review follows this home page screenshot.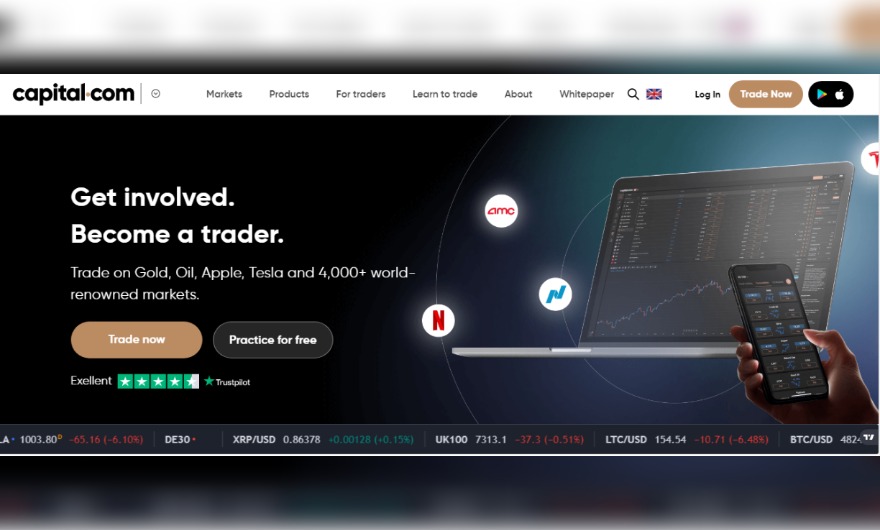 Capital.com offers CFD trading, is a spread betting forex broke, and has a broad array of shares to invest in, as well as being a commodities broker. Tradable assets include:
Forex pairs
Commodities
Indices
Shares
Cryptocurrencies
Capital.com Trading account types
Capital.com does not confuse its traders with an array of trading accounts where features vary according to your deposit balance. It basically has two account offerings ? a traditional account and a professional account. Capital.com, however, does facilitate one other interesting account feature. A trader can set up as many as 10 demo accounts and 10 trading accounts. This arrangement can permit one to test out various strategies while also instantly transferring funds between accounts. Signup is easy, as shown below: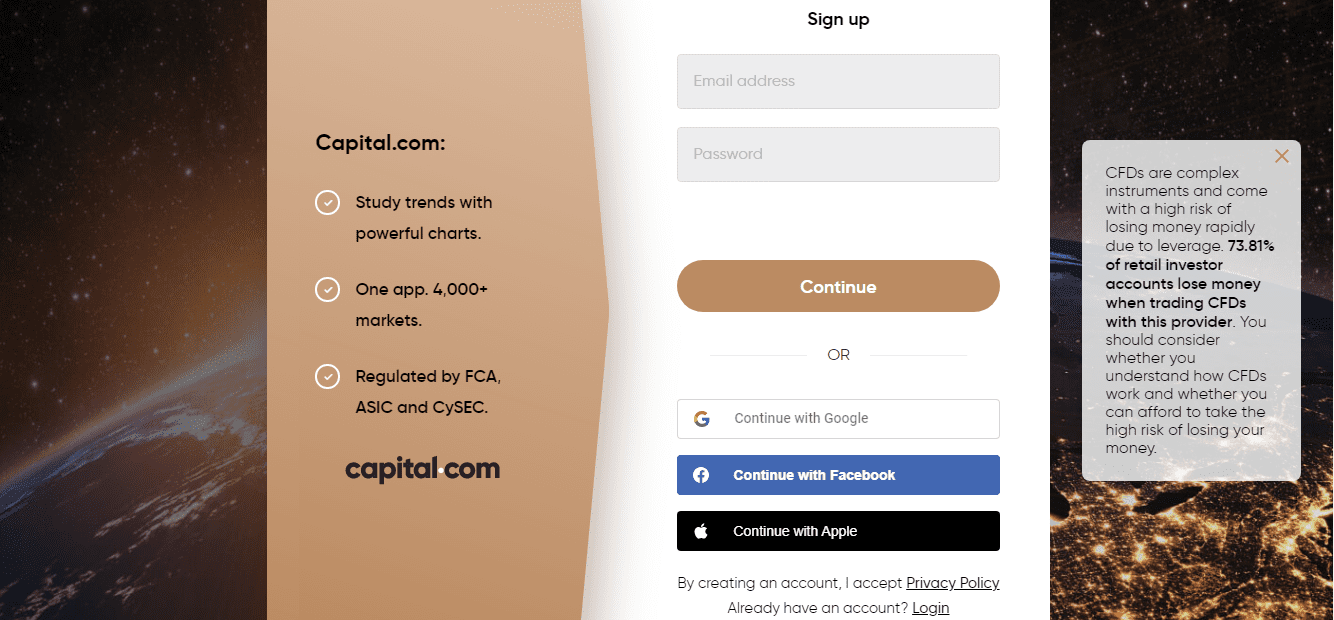 Capital.com Commission and Fees
This broker is known for its tight spreads, often described as being among the best in the industry, a testament to the liquidity provider network that Capital.com has assembled. There are also no commissions or hidden fees such as inactivity fees. Overnight fees are low too. Most spreads start at 0.6 pips.
Capital.com Platforms and Tools
Capital.com excels in this area, providing a variety of options for every trader, emphasising its award-winning and innovative, AI-driven proprietary platform.
Metatrader4 (MT4): Yes, Capital.com supports the highly popular MT4 platform with its real-time charts, live quotes, in-depth analysis, order management tools, range of indicators and the ability to deploy Expert Advisors. The MT4 family of traders can also be accessed to take advantage of their social trading capability.
Capital.com Web Trading Platform: This firm is proud of its proprietary trading platform, which was "designed for traders searching for the intuitive trading experience". Unique AI algorithms follow the user's trading behaviour to detect the appearance of as many as 20 biases that can hold one back from being their best. The firm calls its proprietary feedback system "Emotional Quotient" or "eQ" for short. The platform won awards in Europe in 2020 for its innovative approach with in-depth financial analysis and smart risk management.
CFD Trading App: Yes, Capital.com does support the on-the-go trader with an intuitive platform for mobile devices. Its interface is easy to use and can be loaded onto a device in minutes.
TradingView: If another popular platform is preferred, Capital.com has also partnered with TradingView. It, too, has won awards and has an avid fan base.
Capital.com Research and Educational Materials
Capital.com separates itself from the pack with excellence in these two areas, having already won numerous awards in this arena alone. Capital.com TV is one avenue employed to supply up-to-the-minute analysis and news, but there are also webinars and so much more. There is a wealth of educational support for beginners and even veteran traders that is easily in the top tier of the industry.
Capital.com Mobile Trading App
Capital.com may have the best share trading app in the UK. Its easy-to-use CFD trading app has won awards and can be easily loaded onto a device in as little as three minutes. It can quickly provide access to over 4,000 tradable instruments, while also enabling a practical trading experience for those on-the-go traders.
Should I trade with Capital.com?
In four short years, Capital.com has ascended to the ranks of the top-tiered brokers in the industry, providing tight spreads, excellent training and research support, innovative trading platforms in addition to MT4, and access to 4,000+ tradable markets. They strive to be fully transparent, well beyond today's multitude of top-broker-wannabes, by disclosing management bios, and providing an informative whitepaper, multiple trading platforms and excellent support. What more could you ask of a broker? In the words of its owner and founder, Victor Prokopenya, "We founded Capital.com with one simple idea in mind ? there should be no barriers to financial trading? We are just getting started, and the best is yet to come."
Pros:
Regulated by the FCA, CYSEC, ASIC and NBRB
MT4 and state-of-the-art proprietary system employing AI-supported algorithms
Tight spreads, no commissions and no inactivity fees
Over 6,000+ tradable instruments
Excellent learning materials and research centre
Fully transparent regarding management team and five office locations
Cons:
Leverage for non-professional traders limited to "1:30", but negative balance protection does apply
No Exchange-Traded Funds (EFTs) in product mix, although indices are covered
Primarily a CFD-only trading environment (Published loss rate currently 73.81%)
Does not accept US clients
FAQs
Is Capital.com legit?
Capital.com opened its doors for business in 2017 and now has over 2m in registered clients with $13bn in daily trading turnover and a staff of 800 spread across its global offices. It currently has offices in the UK, Cyprus, Gibraltar, Australia and Belarus. It is regulated by the "Big 3" (FCA, CYSEC and ASIC), and it also complies with the NBRB in Belarus.
Does Capital.com support MataTrader4?
Yes, Capital.com supports MT4, the most popular trading platform in forex trading. However, it has also developed an innovative and intuitive proprietary trading system that is easy to use and has won several industry awards. It uses Artificial Intelligence algorithms to detect trader behavioural biases to assist the trader in becoming a better trader.
Does capital.com comply with the client money regulations?
Yes, Capital.com segregates the funds in client accounts with Tier One banks. The broker has partnered with major money management companies to protect client funds at all times by keeping them separated from operating account activities. Negative balance protection and various financial service compensation schemes also provide another layer of protection.