Australia (ASIC), Vanuatu (VFSC)
---
ACY Securities Forex Broker Review
Established in 2011, ACY Securities has become recognised as a global leader. It operates from ACY Tower in Sydney, and has additional offices in Taiwan, Vietnam, Thailand, Malaysia and the Middle East. The company's multi-asset CFD offering gives clients the freedom to execute their trades seamlessly, supported by state-of-the-art technology, smart educational solutions and first-class customer support.
There's a decent spread of assets available to trade, and spreads can be as low as 0.0 pips for certain account types, while newcomers to trading will enjoy zero commission payable on their stpECN account. All traders at ACY Securities have access to MT4 and MT5 according to preference. Across all of their trading accounts, traders will experience the fastest execution speeds available. For complete peace of mind, ACY Securities Pty Ltd is licensed and regulated by the Australian Securities and Investments Commission (ASIC).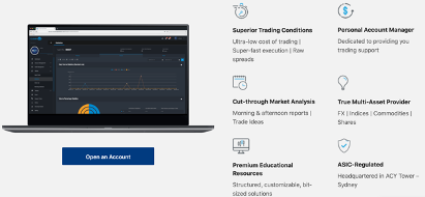 Offering of Financial Instruments
ACY Securities provides access to a range of CFDs on forex major pairs, global indices, precious metals, commodities, cryptocurrencies, ETFs and over 700 share CFDs. In total, it will give you access to more than 800 different CFDs on global markets. Leverage trading is capped at the standard limits of 1:50, 1:100, 1:200 or 1:500 depending on the instrument.
At ACY, you can trade CFDs on:
Major, minor and exotic forex pairs
Precious metals, including gold & silver
Stock indices
Commodities, including crude oil
Shares on the NYSE, Nasdaq & ASX exchanges
ETFs
ACY Securities Trading Account Types
Trading on the ACY Securities platform is delivered through three main account types: stpECN, zeroECN and MT5XChange. The stpECN account allows a starting balance from just $50 and offers fast execution speeds, liquidity from multiple banks, anonymous trading and spreads from around 1.0. The zeroECN account offers much tighter spreads (starting from as low as 0.0 pips), access to liquidity pools, and quick execution speeds. There is also a pureECN account, which is a more selective account type, and provides a premium trading experience. A minimum deposit of $20,000 is required to access this account.

ACY Securities Commission and Fees
The commissions you get charged will depend on the type of account you have opened with ACY Securities. The stpECN account is a zero commission account, though the spreads are much higher. The pureECN and zeroECN accounts have a $5 and $6 roundtrip commission respectively. There may be withdrawal fees charged to your account if you exceed your free transaction limit each month and it is worth noting that there is a minimum deposit in place of $50 for the stpECN and MT5XChange accounts, and $2,000 for those who open a zeroECN account.
ACY Securities Platforms and Tools
Trading is delivered through the MetaTrader 4 (MT4) and MetaTrader 5 (MT5) platforms, without offering many additional features beyond the standard scalping and hedging tools that come with the MetaTrader package. While this might be a negative for newer or intermediate traders, advanced traders might not be put off by the lack of advanced features, given how customisable the MT4 and MT5 platforms are.
That being said, ACY Securities delivers a solid trading experience by offering investors the chance to modify their positions with stop/loss, trailing stop/loss and take profit tools. This enables users to automate their trading and thereby minimise the amount of 'manual' work needed to manage their trades.
It should also be noted that slippage is low at ACY Securities because it works with some of the world's leading suppliers of server technology, with delivery delays from as little as 50ms. By minimising slippage, there is rarely a negative shift in price when opening/closing a position with ACY Securities – this allows you to use the broker's platforms with complete confidence.
ACY Securities Research
The ACY Securities platform provides a range of research tools to help your trading strategy. This includes twice weekly live webinars, an economic calendar, forex trading e-books, and a number of premium trading resources that include trading courses and access to your own account manager.
New blog posts are published regularly, and the broker's 'Latest News' feed is updated daily, providing information about economic or political disruption that may impact investments, earnings announcements, and more. This keeps traders informed, helping them to maximise profits and make adjustments to their trading strategy if necessary.

ACY Securities Mobile Trading App
ACY Securities does not provide access to a dedicated trading app, with mobile trading delivered through dedicated mobile versions of the MT4 and MT5 apps. These are available in browser-based, Android, and iOS versions.
Should I Trade with ACY Securities?
Based on the findings of our ACY Securities review, we can safely say that this broker has put together a really solid package. Although not quite as feature-rich as other platforms, traders will be impressed by the excellent trading conditions that include raw spread accounts offering 0.0 pips. Their accounts provide quick execution speeds and accurate market prices. Additionally, customer support is clearly at the centre of everything that ACY Securities does – there is a multilingual customer support team on hand 24 hours a day, five days a week.
Pros
Good range of asset classes including Share and ETF-CFDs
Tight spreads
Good research and education materials
Low minimum deposit starting at just $50
Access to daily market analysis & training modules
Zero commission paid on their standard account
Cons
Not as feature-rich as other platforms
High deposit minimums on zeroECN and pureECN accounts
FAQs
Who are ACY Securities?
ACY Securities is one of the fastest growing global CFD brokers, founded in 2011 in Sydney, Australia. It provides access to over 700 different CFDs via MT4/MT5, with a particularly strong retail and institutional offering. Although it provides access to a range of different asset classes, it is particularly well-known as a forex broker.
Are ACY Securities trustworthy?
In terms of whether ACY Securities is legit or a scam, you will be glad to know that the firm is fully regulated to operate as a global CFD broker, and it has licenses issued by the Australian Securities and Investments Commission (ASIC) and by the Vanuatu Financial Services Commission (VFSC).
Is ACY Securities an ECN broker?
ACY Securities is a true ECN broker, meaning that it uses its 'electronics communication networks' to directly access the currency markets. From a trader's perspective, this provides you with better price transparency and the reliability of deep liquidity.