AUDUSD – Aussie/dollar uptrend intact
The AUDUSD has been in an uptrend for well over a month now, and it moved up to test key resistance near 0.7730 last week. Price did pullback late last week, modestly, but ultimately we still see the bullish momentum as being intact and so we are looking to trade in-line with it. Our strategy of choice is to look to be buyers until the uptrend is invalidated. Traders can look to buy pullbacks in price whilst we remain above the recent support near 0.7500 – 0.7520 area. The obvious upside target area would be the recent range highs near 0.7730 – 0.7800.
USDJPY – Dollar/yen continues to weaken
USDJPY remains contained under 115.30 resistance, in this latest downward move. We remain bearish on this chart for now, meaning we are looking to sell. We will watch for upside movement (strength) in order to get short (sell) this week, whilst prices are contained under 115.30 level.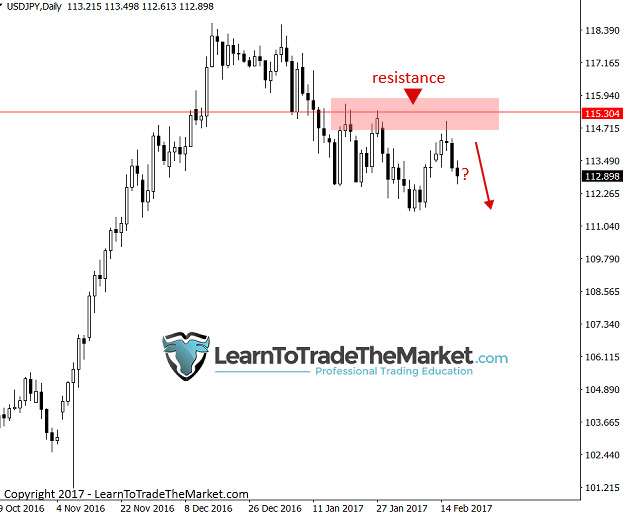 Crude – Crude Oil buyers remain in control
Crude Oil continues to consolidate, moving sideways, but has remained buoyant in recent weeks and has most recently been trending higher. The weekly chart, seen below, shows us multiple bullish tailed bars, an indication that buyers are in charge here. We can look to be buyers on a pullback whilst the trend holds and price continues to remain above 49.30 and 50.80. A break of recent highs near 54.00 potentially signals higher prices into 58-60.00.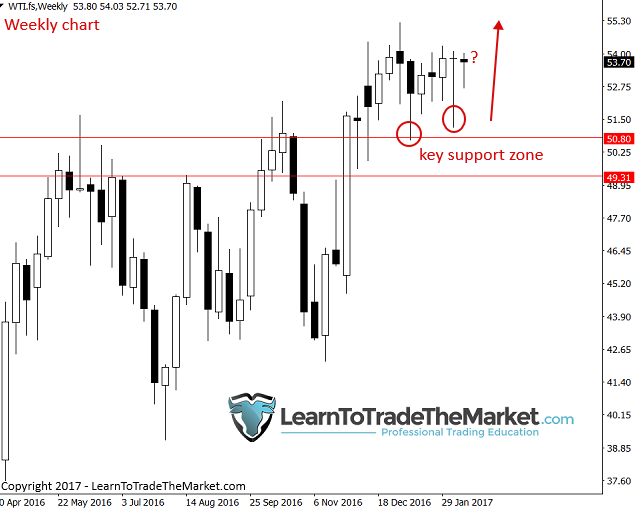 Gold – Gold trending higher
Gold continues to trend higher in recent weeks, following a bottom put in down near $1180.00. Notice that price tested $1220.00 last week and then bounced higher, a signal that buyers are still in charge here. We could see more upside movement this week, into $1250.00 and possibly even $1300.00 in the weeks ahead. We remain buyers whilst price are above $1180.00 support and are looking to get long (buy) on any price weakness. This week, $1220.00 area is our preferred area to look to get long from if we get a pullback.
S&P500 – U.S. stocks continue to print new highs
In the S&P500, price pushed higher again last week, in-line with the uptrend. Prices remain very strong in this market, near the all-time highs, with no end in sight for the uptrend. Traders can still look to buy short-term price pullbacks whilst this market remains above near-term key support near 2277.00 and 2300.00. Due to how far this market has moved to the upside recently, we prefer to wait for a nice pullback to the aforementioned support area before looking to buy.
SPI200 – Australian stock index continues to move higher
The SPI200 Australian Stock Index moved all the way up to 5787.00 key resistance last week, an area we discussed a couple weeks ago as a potential target area. From here, overall, we still favor the upside as there is an uptrend in place, and we are looking to buy pullbacks from support areas. This week, there is support at 5668 and traders can look to buy near that support on any price weakness, targeting resistance up near 5787.00.
This article was written by Nial Fuller. Nial is a highly regarded professional trader and author. He is the founder and CEO of Learn To Trade The Market, the world's foremost trading education resource.