USDJPY – Dollar/yen moves higher, waiting for a pull back to get long
Price moved up to the high side of the recent trading range at 115.30 in the USDJPY last week, exactly testing that level and a little above, before reversing on Friday forming a small bearish pin. This market is now quite bullish overall, after putting in several lows at 111.60-112.50 area. We could see a temporary pull back this week and that could provide a buying opportunity to get long, in-line with the near-term momentum. This week, we see support between 112.50 – 113.70 and we prefer to look for a buy signal after a pull back.
EURUSD – Euro/dollar pushes higher as it bounces from support
The EURUSD moved sideways last week, trading slightly above 1.0520 key support. Price popped higher into Friday's close, indicating that buyers may send prices higher this week. Key resistance is up near 1.0800- 1.0875, and we could see prices try to push higher and test that zone this week, before rotating significantly lower again. Traders could consider buying if we get a small pull back to the downside followed by a buy signal, targeting 1.0800. If prices reach that 1.0800 – 1.0875 resistance area, we can then look to be sellers.
Gold – Gold falls, but still above key support
Gold continued to retrace lower last week, within the overall uptrend. Prices are still trading above key 1180.00 support, so there's still a potential buying opportunity in this market, however, we need a strong bullish reversal signal before we get long. Traders can watch for pullbacks to or just above 1180.00 this week and watch for a price action buy signal there this week to get long.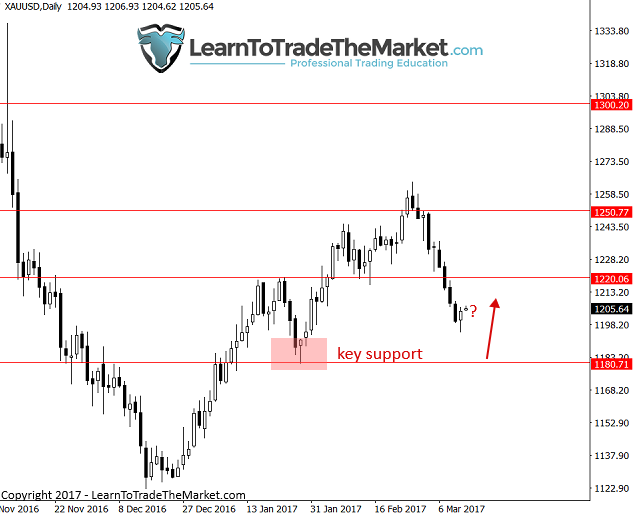 Crude –  Crude Oil sellers take control
Crude Oil sold-off last week, falling significantly and closing under 49.30 support. Now that price has failed to break higher, above resistance near 54.00 and reversed back below key support levels, we are moving to bearish (sellers) on this chart and can look for sell signals from resistance following a retrace higher. We see key resistance up at the old support, near 50.70 – 51.00 and that is the ideal sell area for this week; look for sell signals there and check our daily trade setups newsletter for updates on Oil.
S&P500 – S&P500 uptrend intact
The S&P500 has been in a very strong uptrend for months now, and that trend has no signs of slowing. Price moved down last week, retracing lower within the uptrend, but it did find some support late last week near the 21 day period moving average (blue level on chart). Prices remain strong, near the all-time highs, with no end in sight for the uptrend. Traders can continue to look to buy short-term price dips whilst prices remain above short-term key support near 2336 and 2300.
This article was written by Nial Fuller. Nial is a highly regarded professional trader and author. He is the founder and CEO of Learn To Trade The Market, the world's foremost trading education resource.