Weekly Forex Trade Setups Ideas by Nial Fuller – March 5th to 9th, 2018
EURUSD – Euro/dollar may move higher after reversal at support
The EURUSD has been trading in a range between 1.2520 resistance and the key support zone down between 1.2200 – 1.2160 for the last two months. We can see in the chart below, price bounced from that support zone last Thursday, continuing gains into Friday's close. We see this as strong evidence that buyers are still very active and looking to buy at support levels. There's plenty of room for price to move higher before key resistance comes back in up near 1.2520 area, so we are again looking to buy this week. Traders can watch for price action signals to buy on weakness / pullbacks at 1.2200 – 1.2160 or above; watch for signals on the 1-hour, 4-hour or daily chart time frame.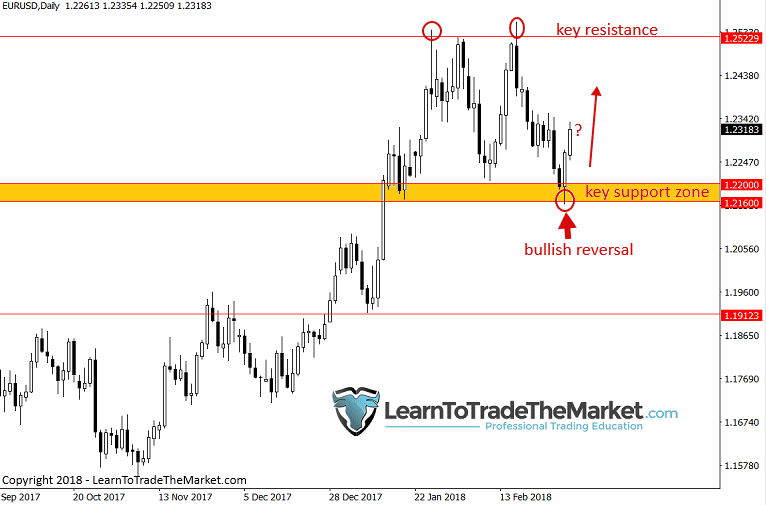 GBPUSD – Sterling/dollar retraces back to support area; will it move up?
We saw a deep retrace lower in the GBPUSD to 1.3800 last week, but underlying uptrend is still intact and so we are watching this pullback for buying opportunities. The 1.3800 – 1.3600 area is a solid support zone to watch for buy signals in this week. Note the small bullish pin bar (reversal signal) that formed last Thursday at support, this could lead to another move higher. We remain bullish / looking to buy whilst above 1.3600 support level.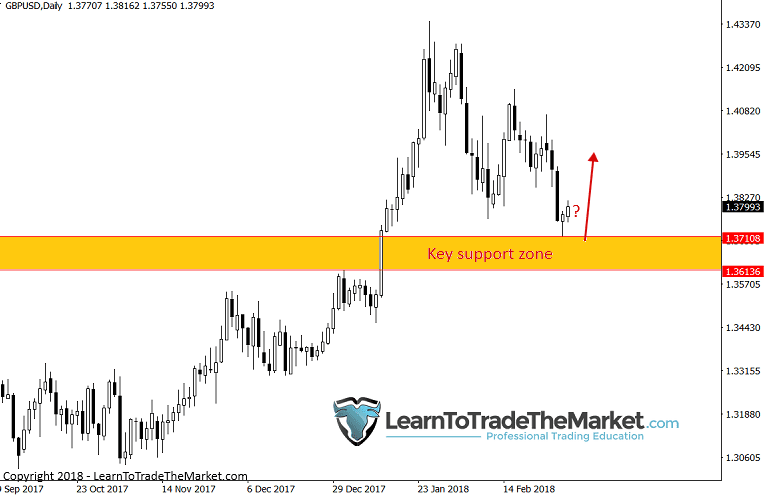 S&P500 – U.S Stock index may be poised to move higher again
The S&P500 moved lower last week after reversing up near 2790 area early in the week, falling but forming a bullish pin bar reversal on Friday. Price bounced at support near 2666 – 2646 and the bullish pin bar that formed there on Friday could lead to a push higher this week, potentially to re-test that 2790 area or just below. Keep in mind, there's still a lot of volatility in the major stock indices so as always, manage risk properly and make sure the risk reward makes sense. Any failure of last week's low / pin bar low would nullify the bullish view for this week and open the door for more losses.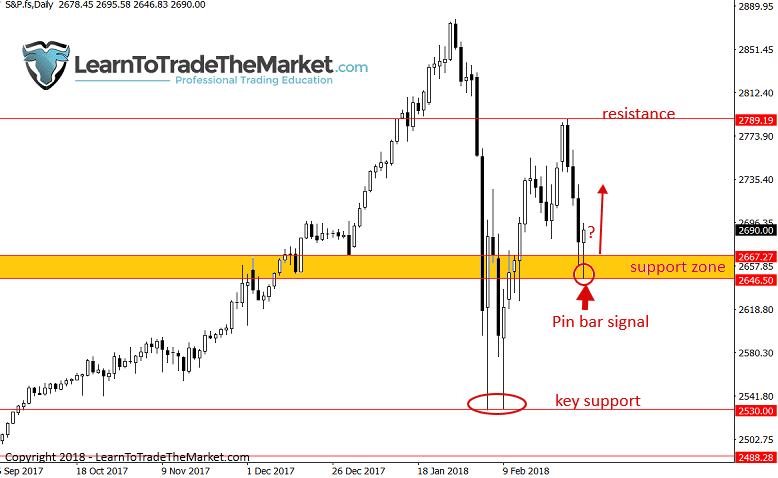 Gold – Gold reverses at key support area and may move higher from here
Gold has been trading above key support near 1300.00 area in recent months, bouncing higher from it on recent re-tests. Price hit that support zone again late last week, forming a nice looking bullish pin bar reversal there on Thursday. This substantial pin bar at key support near 1300 – 1308 could lead to higher prices this week so it's something for traders to take serious notice of. Price is in a trading range, oscillating between 1300 support and resistance up near 1360 area, so currently we are near the bottom of the range at strong support with a clear signal to potentially buy and target the upper end of the range. Any move under 1300 / low of the pin bar would temporarily nullify our bullish view.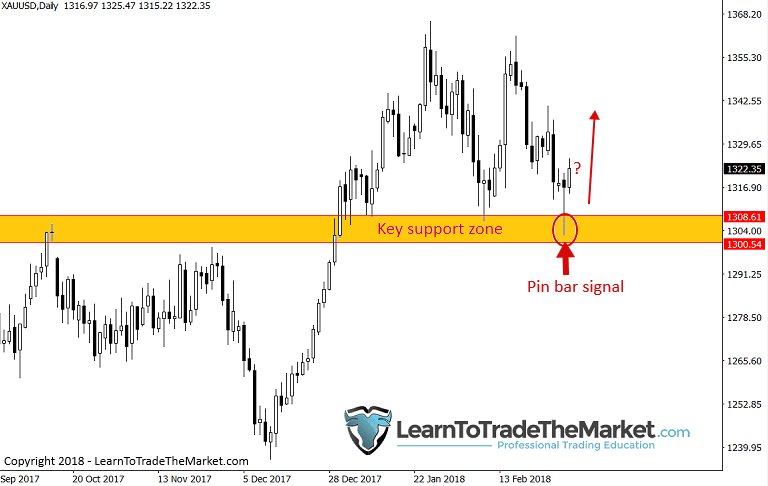 This article was written by Nial Fuller. Nial is a highly regarded professional trader and author. He is the founder and CEO of Learn To Trade The Market, the world's foremost trading education resource.