EURUSD – Euro/dollar uptrend continues as buying continues
The EURUSD uptrend continued last week as the pair remained buoyant up near recent highs. Price has been in a sustained uptrend for months now and we see no signs of it slowing down. We did see the marketpull back slightly on Friday and we are now watching this pull back for a buying opportunity. The next key resistance is not seen until up near 1.2045 area, so there's plenty of room for this pair to keep moving higher. Traders can look for price to test either the 21 day EMA (blue level) or horizontal support near 1.1480 – 1.1300 and look for price action buy signals on the 1 hour, 4 hour or daily chart to rejoin the uptrend from value.
AUDUSD – Aussie/dollar uptrend intact, looking to buy a pull back to support
The AUDUSD broke out from and closed above a major trading range it had been in for over a year recently, and typically this type of breakout leads to a strong continuation move in the direction of the break. This week, 0.7830 – 0.7770 zone and the 21 day EMA area near-term support and we are looking to buy near those areas if we get a price action entry signal following a pull back. The next key resistance / target area is up near 0.8162.
Crude Oil – Crude Oil remains strong, looking to buy from support
Crude Oil has been trending higher over the last month after bottoming out down near $42.00 – $43.50 area. Last week, the market consolidated following the previous week's run higher, but we remain bullish on it and can consider long entries on a pull back back to 47.20 – 46.20 area or just above. The next major resistance is not until up near 52.00 and we could see price test that key level in the coming weeks.
S&P500 – S&P500 U.S. Stock Index remains firm
Price remained buoyant last week as it consolidated just above the 21 day EMA, the uptrend is clearly still intact however. We could see a rotation lower this week, if that happens we will look to buy near 2436.00 area ideally on a 1hr 4hr or daily chart buy signal. We remain aggressively bullish whilst prices are above 2400.00 key support.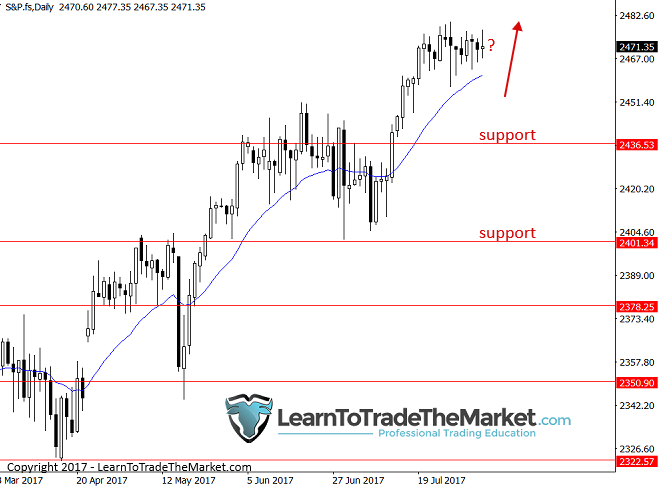 This article was written by Nial Fuller. Nial is a highly regarded professional trader and author. He is the founder and CEO of Learn To Trade The Market, the world's foremost trading education resource.