EURUSD – Euro/dollar bearish run continues
The EURUSD fell lower last week as the recent downward momentum. We have been discussing looking to sell this pair recently in our market commentaries. We could see price fall down and test 1.0500 key support still, but at this point, we would only sell on a retrace higher followed by a clear price action sell signal. Since this pair is range bound, we can watch for buying opportunities near 1.0500 key support as well.
USDJPY – Dollar/yen stays contained under resistance levels but consolidates at support
Whilst the USDJPY daily chart shows a sustained downtrend recently, we can see several daily price bars lower tails testing 110.30, suggesting some buying support and a potential bounce in the cards. Price could rally into resistance this week and this could provide a selling opportunity around 111.70 – 112.60 resistance. More aggressive traders could look to be a buyer around 110.30, there is scope for a small bounce here until price fails the recent lows.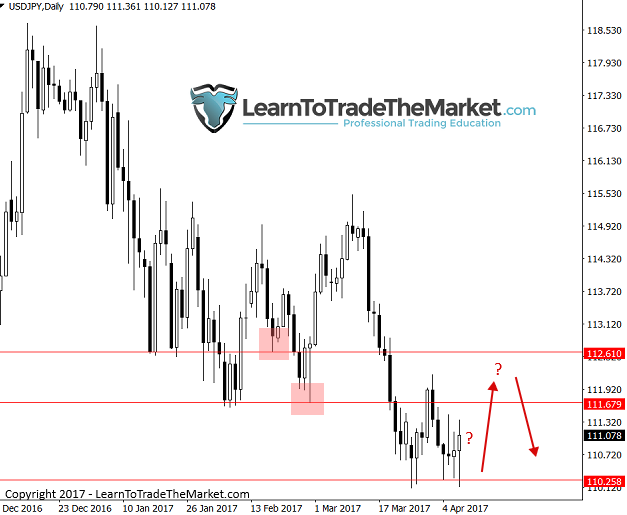 GOLD – Gold uptrend intact, looking to buy on a pull back
Gold has experienced a strong surge higher since it bounced at $1200.00 key support several weeks back; a level we had been watching for buying opportunities as we discussed back in our February 14th commentary. Our views remain similar; we see support at $1220.00 – $1200.00 as a key buy zone and 'line in the sand' for buyers / bulls, so we will wait and look to buy on a pull back to that support zone, either on a price action buy signal or a blind entry. There was a large reversal on Friday which produced a bearish pin bar on the daily time frame, this may see prices pull back slightly this week and provide an opportunity to buy at value down near support.
Crude – Crude Oil pushes higher, looking to buy
Crude Oil surged higher last week as price broke up past a recent key resistance area at 49.80 to 51.20 as well as the high of a bearish pin bar. This signals bulls / buyers are clearly in control right now and we can look for buy signals on pullbacks to support at 49.80 – 50.70 support zone this week in order to trade in-line with the current bullish momentum.
This article was written by Nial Fuller. Nial is a highly regarded professional trader and author. He is the founder and CEO of Learn To Trade The Market, the world's foremost trading education resource.