EURUSD – Euro/dollar finds support at 1.0500 area
The EURUSD has been losing ground since the beginning of February, but last week it bounced at an existing support level down near 1.0500, showing that buyers are coming back into the market here, even if only temporarily. That 1.0500 has held firm for the second time in two weeks, so it wouldn't be surprising to see prices drift mildly higher in the near-term. However, right now we are taking a more neutral view on this market, due to the conflicting downtrend and recent upward bounce from support. The levels of significance we are watching this week are 1.0500 support, 1.0677 and 1.0830 resistance; we will be watching the price action near those levels closely this week.
GBPUSD – Sterling/dollar breaks below key level and loses ground
The GBPUSD fell under support at 1.2400 area last week and moved lower, to test a significant support level near 1.2200, before making a modest upside reversal last Friday. In the daily chart below, you will notice a small bullish reversal bar formed Friday (this is a bar with a longer lower tail or wick), indicating prices could move higher at least temporarily. However, we do see key resistance not far overhead, up near 1.2400, which would easily contain any rally. So, this week, traders can look for potential buying opportunities in the mid 1.2200's, to trade up to 1.2400, where we could then look to be a seller. However, we would prefer to wait for a clear price action signal as evidence, before committing to either direction.
USDJPY – Dollar/yen moves higher as price reverses at support
The USDJPY has been oscillating within a trading range between 115.30 and 111.60 since the beginning of this year, this came on the heels of a very strong uptrend. Last week, price pushed higher, after a false-break of the low side of the range down near 112.50. A false-break occurs when price initially breaks past a level, but then quickly reverses direction, moving back up past the level again. The price action false-break we are seeing, along with the subsequent upward thrust, is showing us that buyers may be re-taking this market, at least temporarily. Thus, this week, we are look to buy whilst prices are above 111.60 – 112.50 key support; if an opportunity presents itself there. We can look to target resistance up near 115.30 area or slightly below.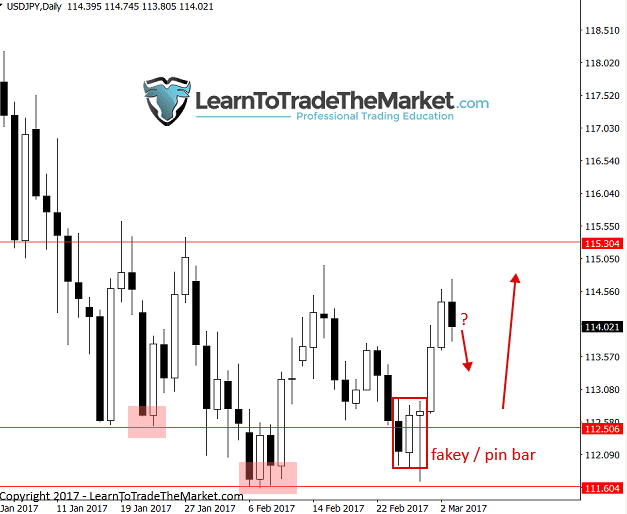 Gold – Gold pulls back, but uptrend intact
Gold retraced lower last week, moving down within the overall uptrend that has been in place since December. On Friday, a small bullish pin bar (a price action reversal signal) formed, showing rejection of 1220.000 support area; a level we discussed recently as a potential level to buy near. If price holds above 1220.00 this week, we could see the uptrend resume from this pin bar, however, a failure at 1220.00 could see prices head back to test 1180.00 again. The chart below is suggesting that 1180.00 – 1200.00 is a 'line in the sand' for the short-term upward leg that we have seen recently. Our strategy of choice this week, is to look to buy pullbacks while price is still trading above major support at 1180.00 – 1200.00.
S&P500 – U.S. stock indices continue to rally
The S&P500 continued to surge higher last week, as the entrenched uptrend shows no signs of ending. Prices are still very firm here, and the uptrend appears to have no end in sight as fresh highs keep being printed in recent weeks. Still, we prefer to wait for a pullback to support before entering, and ideally on a price action confirmation signal. Traders can watch support near 2336.00 and 2300.00 this week as potential buy areas should price rotate lower.
This article was written by Nial Fuller. Nial is a highly regarded professional trader and author. He is the founder and CEO of Learn To Trade The Market, the world's foremost trading education resource.