LeapRate Exclusive… FCA and ASIC regulated Retail FX and CFDs broker ThinkMarkets is getting into the Blockchain ICO game, with plans to launch a new Blockchain based multi-asset trading network called TradeConnect.
The company is getting set for the Pre-ICO token sale of ThinkCoin (see thinkcoin.io), which will be the digital token fueling TradeConnect.
As part of its ThinkCoin ICO plans, ThinkMarkets has also released some of its own updated financial and operating info for 2017 – more on that below.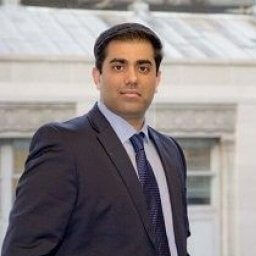 Nauman Anees, ThinkMarkets CEO and co-founder said to LeapRate of the planned launch:
ThinkCoin represents the next generation of trading for the ThinkMarkets group, I believe the blockchain will fundamentally and rapidly transform the way the CFD industry operates. We are well positioned to capture this momentum by releasing a single crypto currency that can be used in any financial trading transaction and position us to be a leader in this sector.
TradeConnect will be a multi-asset peer-to-peer blockchain based exchange that will allow investors to trade a wide range of financial products such as cryptocurrencies, equities, FX, commodities and more. Its bespoke software will allow individuals and institutions to trade directly with one another, creating a balanced playing field where players large and small trade as equals. Trades will be verified on the blockchain, meaning settlements can be completed in seconds, rather than days.
Plans are to initially focus on the Retail trading sector, later expandign the network into the institutional and corporate derivative trading markets.
ThinkCoin (TCO) is the digital trading token that underpins the TradeConnect network. The ThinkCoin TCO token will be used as a means of payment to trade, grow the liquidity pool in the network and scale transactions. Only TCO holders will be able to trade on the TradeConnect network. TCO can be acquired through the pre-ICO and ICO stages of release or, once the ICO is finished, by exchanging fiat currency and other cryptocurrencies via select exchanges.
The company's roadmap plans for:
April 2018 – ICO close and TradeConnect Alpha released
May 2018 – ThinkCoin Token (TCO) listed on crypto exchanges for trading
July 2018 – TradeConnect network Goes live in Beta for select clients
August 2018 – TradeConnect enabled for trading on cryptocurrencies
October 2018 – TradeConnect network trading begins on FX and CFD Products
November 2018 – ThinkMarkets joins TradeConnect network and begins integration of its retail users
December 2018 – Estimated Approval of TradeConnect US Exchange License
January 2019 – TradeConnect begins offering trading in physical equities, commodities, futures and other exchange products.
March 2019 – TradeConnect allows trading in physical equities for subscribers in Japan, Europe and Australia
July 2019 – TradeConnect ICO
Virtually the entire ThinkMarkets management team will be involved in running TradeConnect / ThinkCoin.io, including CEO Nauman Anees and his brother co-founder Faizan Anees, and Rodolfo Bianchet who joined ThinkMarkets when it bought his popular TradeInterceptor trading app last year.
As noted above, in its Whitepaper for TradeCoin parent ThinkMarkets released some of its own financial and operating results for 2017 and previous years. Some of the more notable figures included:
Revenues – USD $26 million in 2017, up 13% from $23 million in 2016.
Active Users – more than 40,000 in 2017, up from about 25,000 in 2016.
TradeInterceptor app – 115,881 registrations in 2017, 87,019 active users, 25.11 minutes average time in app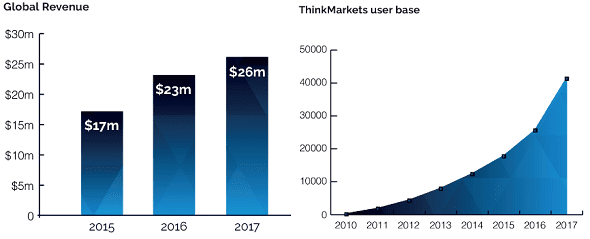 The company's Whitepaper can be downloaded here. Explaining more about ThinkCoin and TradeConnect, the company has also released the following video: